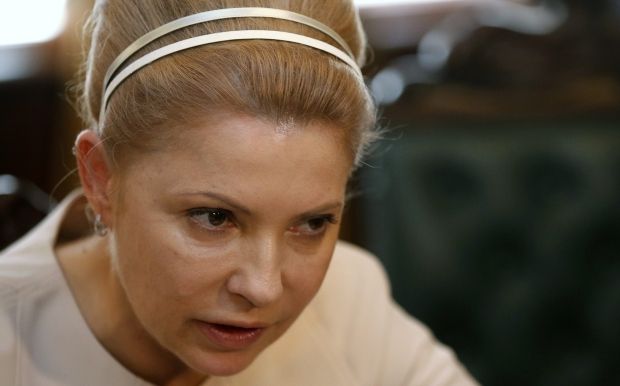 REUTERS
Tymoshenko's remarks highlight the substantial obstacles still facing the nearly year-old peace accord, known as Minsk-2, The New York Times reported.
The Ukrainian ex-PM's comments were particularly notable given that she made them during a week-long visit in Washington. The United States has been one of the new Ukrainian government's strongest allies and supporters in securing aid, including billions in credit from the International Monetary Fund.
In an interview in her hotel suite at the Willard InterContinental, near the White House, Ms. Tymoshenko said that the Minsk agreement was flawed because it combined political and military issues, and that Ukraine could not move forward with regional elections until it had greater assurances regarding its security, including control of the border with Russia.
Read alsoAbromavicius sees Jaresko as premier – mediaShe said that early parliamentary elections were needed to build public legitimacy and to "reboot" the government before the constitutional changes — which would grant greater autonomy to the disputed eastern regions — could win approval. But only Mr. Poroshenko can call early elections, and both he and Ukraine's Western allies oppose the idea.
In a bid to push the peace deal forward, Victoria Nuland, an assistant U.S. Secretary of State, met last month with Vladislav Surkov, a senior adviser to Russian President Vladimir Putin, in the Russian enclave of Kaliningrad. The accord will also be a main topic of discussion next week at the annual Munich Security Conference, where Petro Poroshenko is expected to come under heavy pressure from American and European officials to move ahead with the constitutional changes, as a precursor to elections in eastern Ukraine.
But Yulia Tymoshenko said that Ukraine's Western allies appeared to be putting their own political interests first.
Read alsoUkrainian interest. Carrot and stick from Berlin, G-7's wishes, and increased attention to Crimea"Both the European Union and the United States are facing their own complicated political concerns," she said, noting the United States presidential election and refugee crisis in Europe. "The United States and the European Union want to end the Ukrainian problem at any cost, as fast as possible," she said.
Tymoshenko said that pushing too quickly to carry out the accord could allow Russia to retain the ability to destabilize Ukraine politically at Mr. Putin's whim.
"It seems to me a fundamental mistake to try to end the Ukrainian conflict at any price," she said.
She is hardly uncontroversial. Although her 28-month-long imprisonment by Ukraine's now-ousted ex-President Yanukovych regime was viewed as political, voters were clearly wary of her after she emerged from prison, and she and her party have struggled because of their association with past Ukrainian administrations notorious for entrenched corruption and pervasive mismanagement.
"Ms. Tymoshenko is widely known to harbor continuing national political ambitions. Her opposition to the constitutional changes and her push for early elections undoubtedly reflect a move to capitalize on the falling popularity and perceived political weakness of Mr. Poroshenko and Mr. Yatsenyuk," The New York Times wrote.