Yulia Tymoshenko to recommend all Govt`s members to descend into mine
To try on their own back the value of gaining coal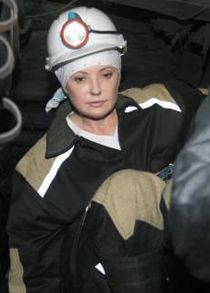 Yulia Tymoshenko will recommend all Govt`s members to descend into mine
Kyiv. June 26. UNIAN. Yulia Tymoshenko will recommend all Govt`s members to descend into mine in order to try on their own back the value of gaining coal by the country, according to Office of mass media relations of the Cabinet of Ministers of Ukraine Secretariat.
Prime Minister of Ukraine Yulia Tymoshenko considers that reforming of coal industry should be started with studying the work of pitmen. She announced that at an interview for the journalists after her descent into the Frunze mine of state enterprise RovenkyAntracite at a depth of 980 metres. "Descending into the mine I have gained impressions for the following five years to conduct selfless work with an aim to recover this branch," Yulia Tymoshenko stated.
Ukraine's Premier noted that despite the Frunze mine has best conditions for work but even under such conditions it is a diabolical work. "I have such an impression like I have descended to the Earth core where there are impossible for normal work conditions – temperature, humidity, dustiness but people are working there and provide Ukraine with coal," she emphasized.
Prime Minister of Ukraine also considers coal miners receive low wages and added that miners every day descending into the mine are heroes.
At the same time Prime Minister expressed regret that for 17 years coal industry has dropped its efficiency twofold and a great number of mines are destroyed. The more so she added that coal industry is the branch which gives Ukraine independence, confidence and energy saving.
Yulia Tymoshenko also promised that she would recommend all members of her Government to descend into the mine in order to try on their own back the value of gaining coal by the country.
If you see a spelling error on our site, select it and press Ctrl+Enter