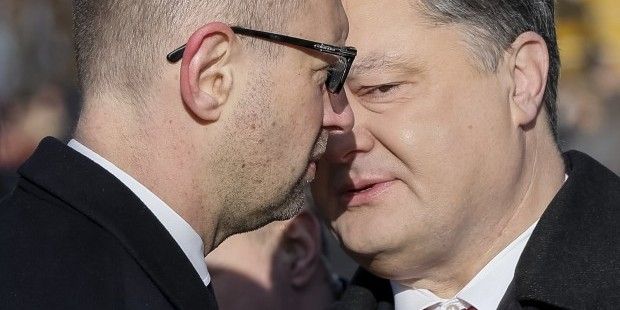 REUTERS
"I don't think the reshuffle is enough," Lutz Roehmeyer, director of fund management at Landesbank Berlin GmbH, said by e-mail, Bloomberg wrote in an article titled "Ukraine to make case for government shake-up as tensions flare."
"Early elections are unfortunately still possible. Foreign investors thought that this is the one and only chance to reform the country but now it seems that the Ukraine falls back into old political behavior," Roehmeyer said.
While President Petro Poroshenko has vowed to "reboot" the cabinet and jump start reforms, two small coalition parties want the premier to step down and one has called for a snap ballot.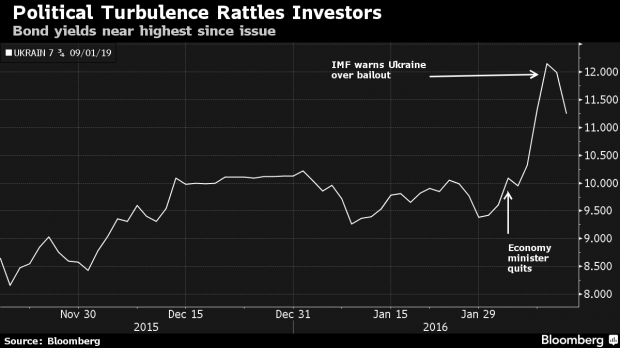 Bloomberg
While investors have taken some comfort from recent efforts by Poroshenko to bolster coalition unity and reaffirm Ukraine's commitment to reform, yields on government debt due 2019 remain almost 2.5 percentage points higher than when they were issued in November after a $15 billion restructuring.
Rada coalition tensions spilled over this month when Economy Minister Aivaras Abromavicius quit, alleging corruption inside the pro-presidential party. IMF chief Christine Lagarde added to the pressure last week, saying it's "hard to see" the bailout continuing without "substantial" reform and anti-graft efforts. Ukraine's corruption perceptions ranking at Transparency International barely budged last year.
Poroshenko's solution is to agree a new reform schedule with the IMF and overhaul the cabinet, retaining reformers such as Finance Minister Natalie Jaresko. The plan is preferable to early elections as support for the parties of the president and the prime minister has tumbled: Yatsenyuk's People's Front is polling at less than 1%. Backing for the coalition's two smallest parties -- Samopomich and ex-Premier Yulia Tymoshenko's Batkivschyna -- has risen.
Bloomberg
The coalition controls 261 of parliament's 450 seats, with Samopomich and Batkivschyna holding 45, enough to require a new alliance to be forged if they back out. Even a successful end to rankling over a new-look cabinet wouldn't be sufficient to douse the idea of a snap ballot, according to Eurasia Group analyst Alex Brideau.
"A change might ease some of the tension, but I don't think it will dispel it entirely," he said by phone. "Within a few months, they'll have to look at potentially changing the government, while reformatting the coalition. That doesn't necessarily mean early elections would happen, but the risk does seem to have increased."