Poroshenko Bloc's faction deems results of Yatsenyuk's government as bad
The parliamentary faction of the Bloc of Petro Poroshenko has acknowledged the performance of Arseniy Yatsenyuk's government as unsatisfactory, according to an UNIAN correspondent.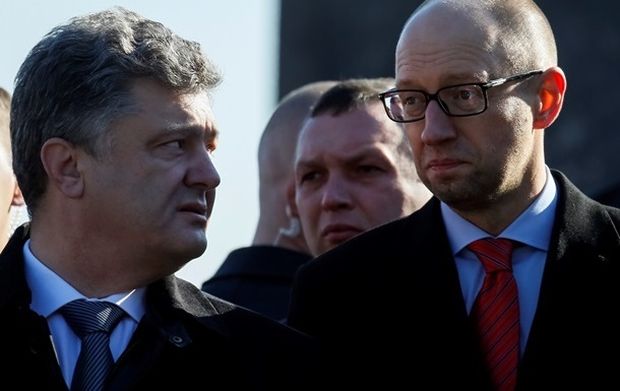 REUTERS
"It has been decided to acknowledge the performance as unsatisfactory – this is the faction's decision. It was decided to commission the MPs to use signature lists to collect signatures [in support of the Cabinet's dismissal]," MP from the Petro Poroshenko Bloc's faction in parliament Serhiy Leshchenko told reporters after the faction's meeting, which was attended by President Petro Poroshenko and Prime Minister Arseniy Yatsenyuk on Monday evening.
Leshchenko said his faction would collect signatures on its own.
"And in case this issue is put to vote [in parliament], we'll vote for the dismissal [of Yatsenyuk's government]," he said.
This information was confirmed by another MP from the Poroshenko Bloc Volodymyr Aryev.
Answering a question how the faction voted on the same issue during the Monday meeting, he said that one MP had voted against with 9 abstentions.
"Poroshenko was present [at the Bloc meeting] for about an hour, and then he left. Ten minutes later Yatsenyuk came in, he stayed for about an hour, then left too, after which the faction took its decision," he said.
MP from the Petro Poroshenko's Bloc Serhiy Kaplin said it was MP Yuriy Solovey who voted against the premier's dismissal.
Ukrainian online publication Ukrainska Pravda wrote that Poroshenko had not expressed his clear-cut position as for the government's dismissal at the Monday meeting, he only rebroadcast risks related to the dismissal and Western partners' position. The president also asked the bloc's faction to vote for the eight bills that are needed for visa-free travels to the European Union and for cooperation with the International Monetary Fund.
"I'm not going to exert any pressure on you – I'm here to hear your," he told MPs when answering a question about the government's resignation.
According to Poroshenko, the issue of the government's dismissal could not be left unaddressed, as this is the issue that Ukrainian society is concerned about, but it is up to MPs to decide. He also added that he would do his best to prevent a snap parliamentary election.
Yatsenyuk, who was also present at the Monday meeting, told the MPs that "we're dumbly falling back to 2005, but there was no war then."
Chairman of the Petro Poroshenko's Bloc faction Yuriy Lutsenko said in answer: "The president was an unpopular political figure then and he forced the popular premier to resign, while the president is the most influential figure now."
If you see a spelling error on our site, select it and press Ctrl+Enter