Savchenko's "last plea" left unsaid in Russian court (full text)
Ukrainian female pilot Nadia Savchenko, which has been illegally detained in Russia on March 3 was scheduled to say her "last plea" in a courtroom before the court determines a sentencing date. However, the hearing was adjourned until March 9.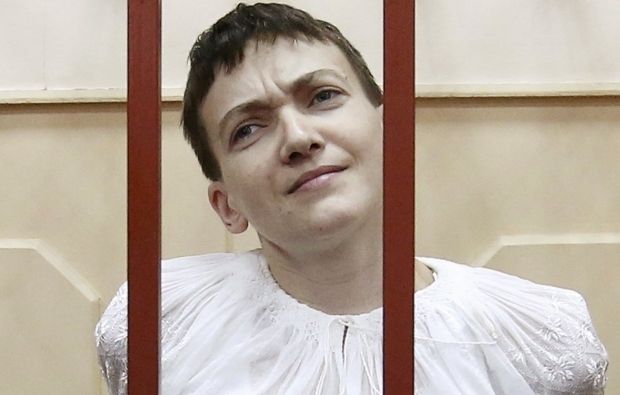 REUTERS
The full text of Savchenko's "last plea" was later published on her official Facebook page.
"I do not admit guilt or sentence, nor do I recognize [jurisdiction of the] Russian court. In the case of a guilty verdict, there will be no appeal. I want all civilized democratic world to realize that Russia is a third world country with a totalitarian regime and the tyrant dictator. In this country, they spit on human rights and international law.
The situation is absurd when those who kidnap people and torture them pretend to have the right to judge them afterward. What kind of fair trial can it be? In Russia, there is no trial or investigation! There is a farce of the Kremlin's puppets, and I feel it is completely unnecessary to waste the time of my life to take part in it!
Read alsoRussian prosecutor demands 23-year prison term for SavchenkoTherefore, there will be no appeal. Instead, it will be as follows: after the verdict, I will continue with the hunger strike for another ten days, until the sentence has entered into force, and this is regardless of the translation of the sentence to Ukrainian, because they are able to delay the process with such translations. In ten days, I will announce a dry hunger strike, and then, Russia will have no more than another ten days to bring me back to Ukraine, where I was kidnapped from! And I don't care how they justify it. I've heard of pretty good skills of Petro Poroshenko in diplomacy. Well, I hope that his diplomatic skills will be enough to make a deal with one idiot in Russia... After all, he promised my mother that I would be home by May holidays of 2015.
And while they bargain for me, my life will be leaving me, and Russia will return me to Ukraine anyway, dead or alive! But they will return me!
And throughout these ten days, my sister will be waiting at the jail gates, day and night, to see whether they release me or take my body out. If you put her to jail, my mother will come, she is 77. Will you put her to jail, too? Then she will be replaced by my friends, and behind them there will be row of Ukrainians! And remember – you can't lock up everyone! And while my fellow citizens will stand here, ordinary, honest, and decent Russians from nearby will start bringing them hot tea, sandwiches and blankets, because each of them knows that in my place there might be a child of each of them, in the prison of the nations called Russia!
That's how the Maidans start! Do you really want that?! Cause you seem to fear it like the plague! Therefore, it is better for the Kremlin to return me to Ukraine alive as soon as possible!
Read alsoSavchenko announces hunger strike after court postpones last hearing And all the world with democratic values should better comprehend in time the history lessons and remember that at one time, Europe was tolerant with Hitler, America was not decisive enough, which led to World War II. Putin is a tyrant with the imperial swing and Napoleon and Hitler's complexes combined. A bear does not understand human language, it only understands the language of force. Therefore, if we don't become more determined and not define the right priorities in time, we will soon have World War III.
Read alsoSavchenko speaks up against swap for GRU officers, threatens her sentence to be "posthumous"As a politician, I will no longer shake hands with Russia in the political arena. It is not appropriate to shake hands with someone who kept you in handcuffs, and your people - in shackles. But taking any of my political decisions, I will always think how it may affect the ordinary people in Ukraine and also in Russia. Because in Russia, no matter what, there are still a lot of honest, decent, kind, and unhappy people. "
If you see a spelling error on our site, select it and press Ctrl+Enter