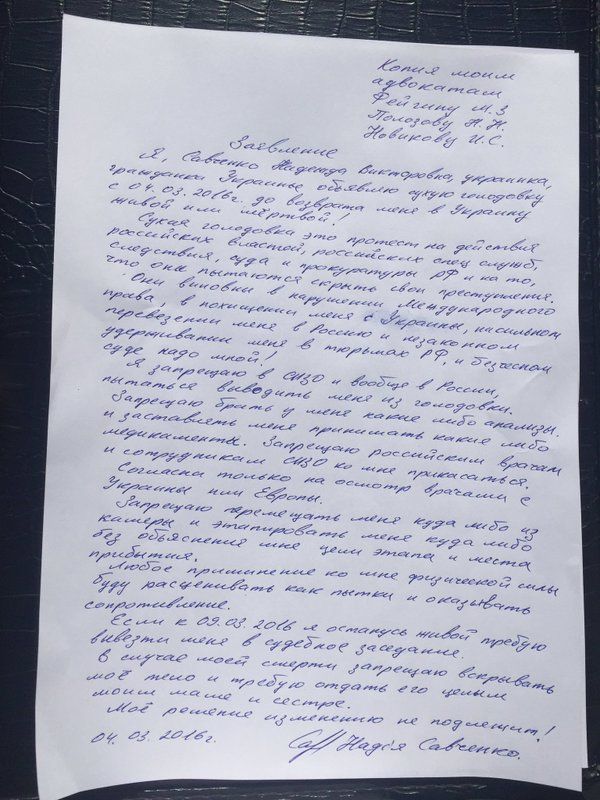 Savchenko declared a hunger strike / twitter.com/moscow_advokat
"I, Nadia Savchenko, a Ukrainian, a citizen of Ukraine, declare a hunger strike from 04 April, 2016, until  I return to Ukraine dead or alive," Savchenko wrote.
According to her, a dry hunger strike is a protest "against the actions of the Russian government, the Russian special services, the investigators, the court and the Prosecutor's Office, as they all try to conceal their crimes."
Savchenko is positive that these agencies are responsible for the violation of international law, her abduction from Ukraine, forced transportation to the Russian Federation and her illegal holding in Russian prisons, as well as for the sham trial.
"I forbid pulling me out of hunger strike here in the detention facility or anywhere else in Russia. I forbid any lab tests being taken from me and any medicines given. I forbid Russian doctors and prison staff touching me. I only agree to the examination by doctors from Ukraine and Europe," said Savchenko.
"I forbid moving me anywhere out of my cell and transporting me anywhere else without explanation of the aim of such transportation and naming a destination. I will regard any use of physical force against me as torture and I will resist," she added.
Savchenko stressed that, if she stays alive, she must be taken to a court hearing.
Read alsoSavchenko's "last plea" left unsaid in Russian court (full text)"In case of my death I prohibit to dissect my body and I demand it be given uncut to my mother and sister. My decision shall not be amended," said Savchenko.
In addition, she has written in Ukrainian: "In Russia, I trust no one! I am not afraid! I ask for nothing! I've said my last word! With Ukraine in my heart!"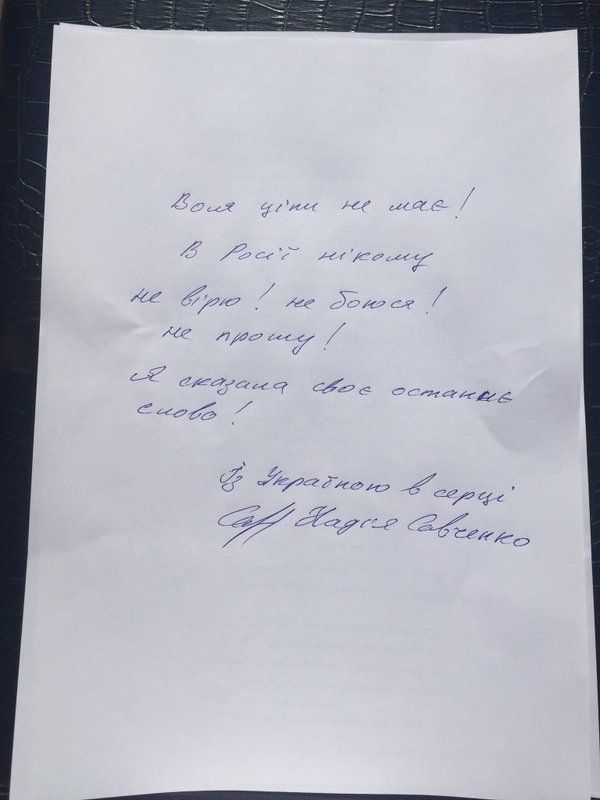 twitter.com/moscow_advokat
As UNIAN reported earlier, Russian authorities accuse Savchenko of the murder of two Russian journalists, as well as the illegal crossing of the Russian border. Savchenko and her defense denied all accusations, claiming that at the time of death of the Russian journalists, she had already been captured by the Russian-backed militants, who then forcibly transported her to Russia.
In mid-December of last year a Russian court extended Savchenko's arrest until April 16. After that, she declared a hunger strike in protest – the third one since her arrest in the summer of 2014.
On March 2, state prosecution demanded that the court sentence Savchenko to 23 years' imprisonment in a penal colony.
On March 3, the court refused to provide Savchenko with an opportunity to speak with her last plea. After debate, the judge adjourned the meeting, adding that the hearing will continue on March 9. In response, Savchenko said that being denied of last plea is perceived as violation of her rights, therefore she declared hunger strike from March 4.