Jaresko may become PM, puts forward certain conditions – media
Ukrainian Finance Minister Natalie Jaresko has tentatively agreed to become the Prime Minister after a week of negotiations, Ukrainian online newspaper Ukrainska Pravda reported with reference to its sources in the presidential administration.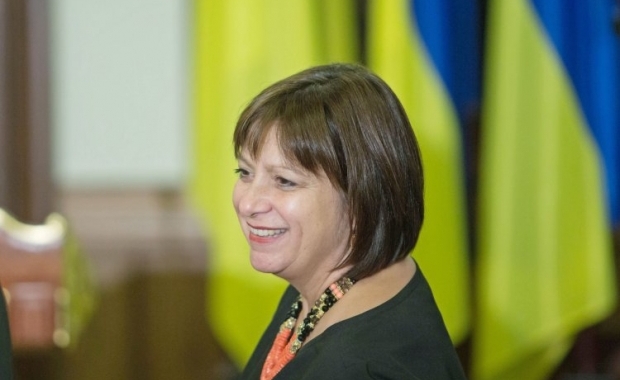 Photo from UNIAN
According to the report, a strategic group of seven, which includes the president's closest entourage, continues to insist on Arseniy Yatsenyuk's resignation.
It is reported that talks with Finance Minister Jaresko were conducted during the last week, and she is said to have tentatively agreed to head the Cabinet of Ministers, while putting forward certain conditions. They are related, inter alia, to a technocratic government without party quotas, and the absence of any political pressure from any side. Jaresko also insists on a direct dialogue with the parliament and support for government initiatives by all factions of the coalition, including the Bloc of Petro Poroshenko, according to the sources.
The finance minister also proposed several candidates for posts in the future government – Borys Lozhkin and Dmytro Shymkiv as Vice-Premiers, Deputy Economy Minister Yulia Kuznetsova as Energy Minister.
At this, Jaresko also mentioned those who were not welcomed in a new government: Deputy Head of Presidential Administration Vitaliiy Kovalchuk, who has previously sought to become First Deputy Prime-Minister for the Economy, as well as Energy Minister Volodymyr Demchyshyn and Social Policy Minister Pavlo Rozenko.
Sources told that the presidential administration had tentatively agreed with the conditions.
At the same time, it is reported that other candidates for the post of prime minister are being discussed in the president's circle.
According to the report, opponents of the incumbent prime minister stated they were ready to initiate an extraordinary parliamentary session next week, preliminary on March 9-10, during which Yatsenyuk is expected to announce his voluntary resignation.
If you see a spelling error on our site, select it and press Ctrl+Enter