Russia promises Ukrainian doctors access to Savchenko - Gerashchenko
In the next few hours, a team of Ukrainian doctors will head to Russia's Rostov region to examine and provide medical aid to the Ukrainian female pilot and MP, Nadia Savchenko, who has been on dry hunger strike since the last court hearing in a sham trial on murder charges.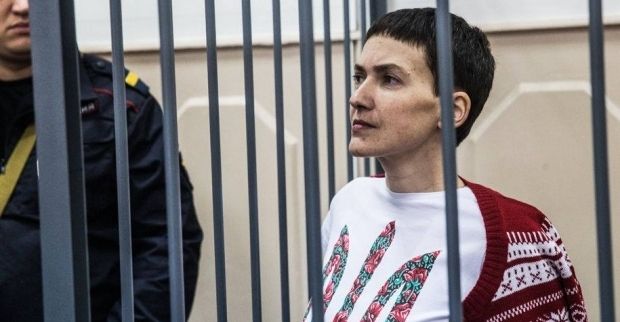 President instructed the Ministry of Foreign Affairs "to create a headquarters to coordinate Nadia's rescue" / facebook.com/Batkivshchyna
"Ukrainian diplomats finally managed to get the Russian authorities to promise that our doctors will have access to Nadia March 9. The Ukrainian president ordered to urgently set up a mobile team of the best Ukrainian doctors, also taking into account the wishes and position on this important issue of Nadia's family – her mother and sister. Today, a mobile team of three doctors sets off from Kyiv to [Russia's] Rostov region," the President's envoy on the peaceful settlement of the situation in Donetsk and Luhansk regions, Ukraine's representative in the humanitarian subgroup of the Trilateral contact group, Iryna Gerashchenko, wrote on Facebook on Tuesday.
Read alsoSavchenko continues her hunger strikeAccording to the official, the Ukrainian President also instructed the Ministry of Foreign Affairs "to create a headquarters for the coordination of Nadia's rescue."
"Yesterday, we finally managed to provide for our Consul General's access to Nadia. Stringent EU statements were also released with demands to release Nadia Savchenko and all prisoners  as the Minsk agreements require. An international campaign is scheduled to be held March 9 in support of Savchenko and all political prisoners in the Russian Federation. Our diplomatic facilities and Ukrainian communities around the world are working on setting up peaceful protests. The campaign will cover various European capitals and other cities across the world," she said.
Read alsoPoroshenko calls for more pressure on Russia to release SavchenkoGerashchenko added that the Verkhovna Rada committees on European integration and foreign affairs also appealed to the European fellow politicians to intensify public pressure on the Russian Federation.
Read alsoSavchenko says will stop hunger strike only if brought back to Ukraine "dead or alive" (message)However, she said, "it is impossible at this stage to disclose all the details of Nadia's rescue plan, because the work is ongoing."
"We are asking Vira to call on her courageous sister again and again to at least drink water. Ukraine needs her, and Ukraine is fighting for Nadia. The issue of freeing Nadia and other prisoners – those in held in prisons across Russia and in the occupied territories – will be crucial during the next meeting in Minsk on March 10," reads the statement.
Gerashchenko also urged everyone to join the campaign in Savchenko's support.
If you see a spelling error on our site, select it and press Ctrl+Enter