Rada adopts special confiscation bill in first reading
The Verkhovna Rada of Ukraine has adopted in first reading a draft law on the return to the state of funds and property before the court verdict is issued, according to an UNIAN correspondent.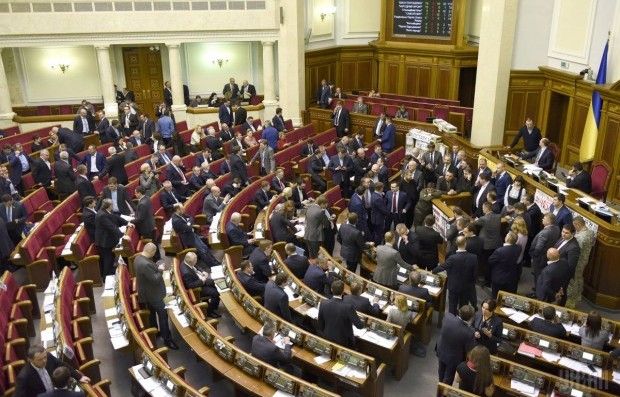 Photo from UNIAN
According to Chairman of the Verkhovna Rada Volodymyr Groysman, a working group of MPs and experts, including the international team, will be set up before the second reading in order to finalize the draft law.
Presenting the draft law before the break and further consultations, Secretary of the Verkhovna Rada Committee on National Security and Defense, MP from the Bloc of Petro Poroshenko Ivan Vinnyk said that the enforcement of this law (in comparison with the first version of the bill) had been narrowed down to the offenses relating to "embezzlement, creating a criminal group, and pure corruption – bribe-taking."
"It applies only to those who were state employees, not applying to ordinary citizens," MP said.
Read alsoKlyuyev's Austrian companies declare bankruptcy amid EU sanctionsAccording to Vinnyk, the bill stipulates that only cash, foreign currency, government bonds, treasury bills, precious metals, stones, and revenues stored in banks are subject to seizure.
Vinnyk also said that this law could be applied only to persons who have been on a wanted list for at least six months.
In addition, the bill is supplemented by a provision, according to which the court will investigate and establish whether Ukraine has fulfilled all necessary statutory investigative measures to find a suspect.
Among other things, a possibility was excluded of re-submission of the application to the court regarding recovery of funds.
Read alsoEU extends sanctions against Yanukovych and his associatesAt the same time, "in the case of a not-guilty verdict, the country will be obliged to unconditionally return the funds within 12 months, which have been transferred to the state during the pre-trial investigation on the basis of this law," Vinnyk said.
During the discussion of the bill, MP from People's Front party Anton Gerashchenko said that "since the victory of the Maidan, immediate decisions had been taken on the arrest of about $2 billion in state bonds in the accounts of Ukrainian banks."
Read alsoEU lawmakers demand sanctions on Putin, 28 others over Savchenko"There is information that the money belongs to former officials of Yanukovych's regime," MP said.
According to Gerashchenko, as of today, without this law "we cannot take this money, confiscate it and use it for the needs of national defense, for the needs of its development."
"Once this law is passed, we will be able to prove through a transparent procedure and through the courts that the money is not legitimate and may be confiscated to the state budget," he said.
The decision was supported by 228 MPs out of 320 registered in the session hall.
The Opposition Bloc and Vidrodzhennia faction did not vote.
If you see a spelling error on our site, select it and press Ctrl+Enter