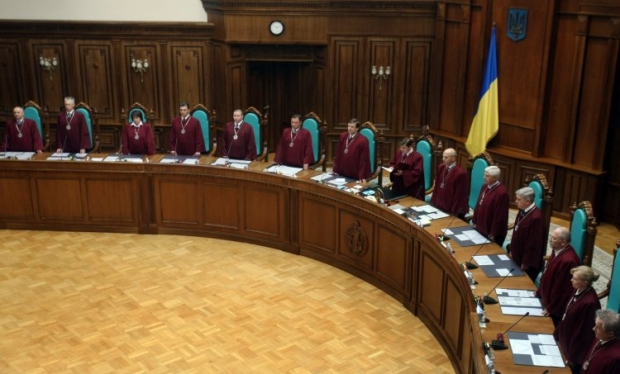 The Constitutional Court of Ukraine / Photo from UNIAN
The ruling states that, in case of a preliminary approval of the draft law amending the Constitution by the constitutional majority of the Verkhovna Rada, which has not been considered at a regular parliament session, the constitutional provision "at the next regular parliament session" shall be deemed as follows: "the next regular session of the Verkhovna Rada is a regular parliament session to be held in accordance with the provisions of Section XIII "Amendments to the Constitution" of the Basic Law of Ukraine and regulations of the Verkhovna Rada, and during which the draft bill amending the Constitution of Ukraine, previously adopted by the majority of the constitutional composition of the Verkhovna Rada, shall be deemed adopted as the law if it receives no less than two-thirds of votes of the parliament's constitutional majority."
Read alsoUkraine changes procedure for amending ConstitutionJournalists asked Anatoliy Selivanov, representative of Petro Poroshenko Bloc in the Constitutional Court, to clarify the ruling. Selivanov declined to comment, adding that he had first to review it.
As UNIAN reported earlier, 51 MPs addressed the Constitutional Court requesting the official interpretation of the provisions of Article 155 of the Constitution of Ukraine in the part concerning "the next regular session of the Verkhovna Rada of Ukraine."