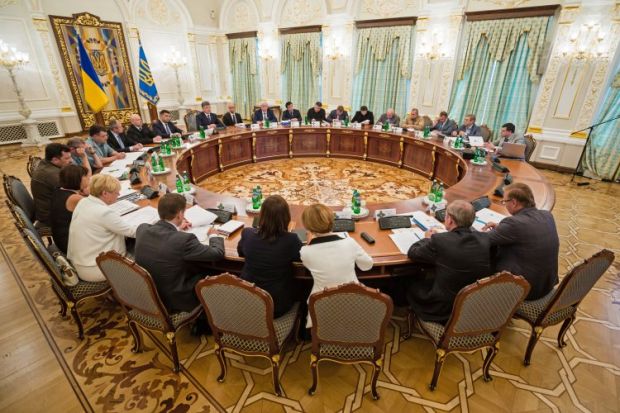 Photo from UNIAN
National Security and Defense Council of Ukraine approved the sanctions list against the individuals involved in the illegal detention and imprisonment of Ukrainian pilot Nadia Savchenko and film director Oleh Sentsov, according to the NSDC's press service.
The Council noted that the sanctions will be applied indefinitely against individuals who had committed crimes against the citizens of Ukraine: Savchenko, Sentsov, and other patriots.
The list includes individuals involved in the kidnapping, illegal detention, torture, falsification of criminal cases, drafting and issuing politically motivated and initially wrongful sentences in the Russian courts. "Among those who were put on the sanctions list are heads and the FSB, the Investigative Committee of the Russian Federation, the prosecutors, members of the judiciary corps, the military, and others," reads the statement.
Read alsoPrisoners of conscience: Why Kremlin needs Ukrainian hostagesDuring the NSDC meeting, President of Ukraine Petro Poroshenko said that "Ukraine will never recognize 'sentences' of the Russian courts against the illegally detained Ukrainian patriots."
Also, the President instructed to extend the sanctions list of the citizens of Russia, involved in the persecution of Ukrainian citizens, in particular, the Crimean Tatars in the temporarily occupied territory of Crimea.
Read alsoSavchenko to be returned to Ukraine within next two weeks: mediaAs UNIAN reported earlier, Ukraine's Foreign Minister Pavlo Klimkin stressed the need to adopt the draft regulation on the application and extension of personal, special, economic, and other restrictive measures against individuals involved in illegal actions against Ukrainian pilot and MP Nadia Savchenko, who was wrongfully convicted in Russia.
Klimkin said that this is an additional list to that already approved by the NSDC.
The suggestions regarding the list were tabled in the NSDC March 24.
Read alsoU.N. demands Nadia Savchenko be releasedThe Donetsk City Court of the Rostov region of Russia on March 22, sentenced Nadia Savchenko to 22 years in prison, finding her guilty of the murder of two Russian journalists in Luhansk in the summer of 2014. Savchenko has denied all accusations and has not recognized her sentence. Human rights groups consider her a political prisoner.
President of Ukraine Petro Poroshenko condemned the show trial of Savchenko urging his Russian counterpart Vladimir Putin to fulfill his promise and return Savchenko to Ukraine. He added that Kyiv is ready to exchange Savchenko for two Russian military servicemen detained in Donbas last spring.
The Kremlin said that it is only Vladimir Putin who can take the decision on extradition or exchange of Savchenko.