Chernivtsi artist Anatoliy Fedirko opened a symbolic monument to his fellow countryman – Speaker of the Verkhovna Rada of Ukraine Arseniy Yatseniuk.
According to an UNIAN correspondent, Oles Doniy, member of parliament and head of Ostannya Barykada art union, mass media, and local residents, took part in the ceremonial opening of the monument.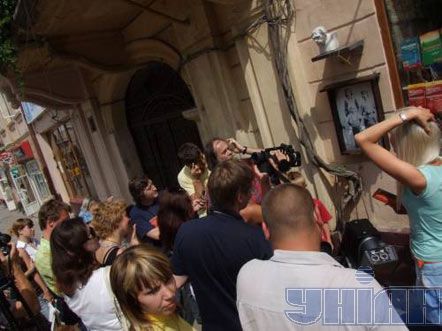 The so-called monument resembles an icon, which shows Arseniy Yatseniuk as a child, surrounded by girls, one of them being the sister of the Speaker. A cup with inscription "For donations on development of Ukrainian parliamentarism" is fastened with a chain to the picture. As soon as the monument was opened, Chernivtsi residents began to throw coins and hryvnias into the cup.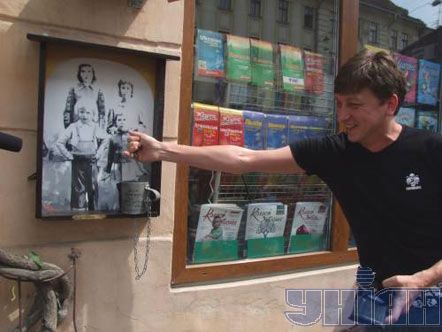 According to A.Fedirko, he feels pleased that his fellow countryman heads the supreme legislative body in the country, though he has not been honored in his native region as yet. "I decided to immortalize Mr.Yatseniuk in the center of his native city namely in such a way, but, until our Verkhovna Rada and Speaker are far from perfection, I decided to fasten there a cup for donations for the development of parliamentarism in Ukraine", the artist said. According to him, the money will be taken from the cup every day, and will be send to the Verkhovna Rada in the end of every month.
Commenting on the event, MP O.Doniy noted he was glad to receive the invitation from A.Fedirko, as he has known him since long ago as a "great provocative artist". "Irony and parody are the gist of the Ukrainian esthetics, we can tell in such a way much more than with any other means", the lawmaker pointed out.
Photos by UNIAN