Parliament Speaker Groysman hesitant about his premiership
Ukrainian Parliament Speaker Volodymyr Groysman is hesitant about his possible appointment as prime minister and is reported to have refused to hold that position, according to Member of Parliament from the pro-presidential Petro Poroshenko Bloc Mustafa Nayyem.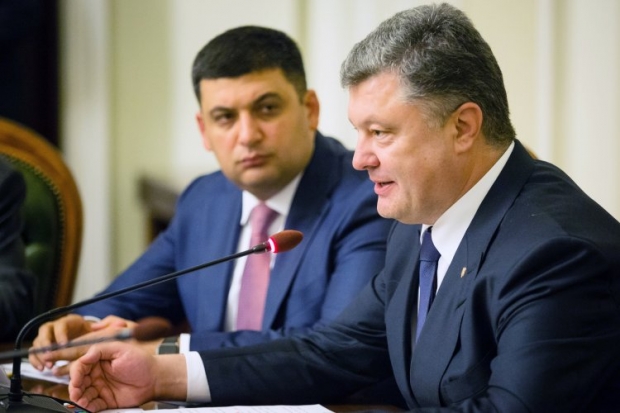 Poroshenko says he would prefer to see incumbent parliament speaker Groysman in the premier's office / Photo from UNIAN
"Parliament speaker Volodymyr Groysman has turned down the prime minister's post after talks with President Petro Poroshenko and acting Prime Minister Arseniy Yatsenyuk. They have failed to reach agreement on candidates for the ministers," he wrote on Facebook on Monday evening.
Спикер парламента Владимир Гройсман отказался от поста премьер-министра после переговоров с президентом страны Петром По...

Опубликовано Mustafa Nayyem 11 апреля 2016 г.
MP from the People's Front Viktoria Siumar also wrote on Facebook that a new candidate should be proposed after the failure of the agreements with Groysman as for the "composition and structure of the new Cabinet." "Now we should demand that our partners suggest a new candidate for prime minister and information about the composition of the parliamentary coalition. Or we're waiting for proposals as for candidates and composition of the new government from other democratic forces," she wrote.
"The People's Front has fulfilled all the agreements with the Petro Poroshenko Bloc – Yatsenyuk's resignation, the faction of the People's Front is ready to remain part of the coalition with the prime minister from the Petro Poroshenko Bloc. Our partners from the Petro Poroshenko Bloc proposed Volodymyr Groysman. We had no disagreement with Groysman and the Petro Poroshenko Bloc. The failure of the agreements as for Groysman's government is due to problems between the candidate from the Petro Poroshenko Bloc and the Bloc's parliamentary faction," she wrote.
Народний фронт виконав всі домовленості з БПП: відставка Яценюка і фракція НФ готова лишитися в коаліціі з прем'єром від...

Опубликовано Вікторіей Сюмар 11 апреля 2016 г.
At the same time, Ukrainian news agency RBC-Ukraine reported late on Monday evening with reference to its sources at the Presidential Administration that Groysman had agreed to head the new government after Poroshenko had threatened to appoint Yuriy Lutsenko, who is currently the head of the Poroshenko Bloc's parliamentary faction, to the PM's post.
Earlier on Monday, another MP from the Petro Poroshenko Bloc, Oleksiy Honcharenko, said "the parliamentary factions of the Petro Poroshenko Bloc and People's Front and candidate for PM Volodymyr Groysman have different views on the future government."
He said negotiations would continue on Tuesday morning.
Read alsoUkrainian PM Yatsenyuk resigns Arseniy Yatsenyuk on Sunday announced his resignation, which should be authorized by lawmakers on Tuesday. His resignation has offered a chance to set up a new coalition in parliament and form a new government.
Following Yatsenyuk's statement, Poroshenko said he was ready for any prime minister but would prefer to see Groysman, the incumbent parliament speaker, in the premier's office, who will need to receive at least 226 votes in parliament to be approved as prime minister.
If you see a spelling error on our site, select it and press Ctrl+Enter