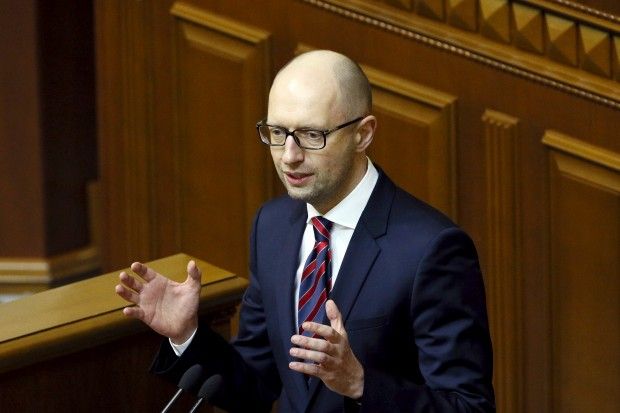 REUTERS
"Together we have done a lot for our country and our people. I am asking the Parliament to support my resignation, but we need to move forward. I am asking you to accept my resignation; and we have yet great work to do and a lot to achieve," said Yatsenyuk, thanking his colleagues and opponents for making him "stronger."
As UNIAN correspondent reported, after finishing the address from the Rada rostrum, Arseniy Yatsenyuk left the session hall, cheered by his supporters from the People's Front faction.
Almost all of the ministers have followed Yatsenyuk out of the hall, except Defense Minister Stepan Poltorak, Deputy Prime Minister Hennadiy Zubko, Foreign Minister Pavlo Klimkin, and Minister of Social Policy Pavlo Rozenko.
Read alsoMajority of parliament's coalition supports Groysman for PMAs UNIAN reported earlier, on February 26, 2014 the candidates for government positions were presented to the people on the Maidan. Arseniy Yatsenyuk was offered the post of Prime Minister of Ukraine. The next day the Verkhovna Rada adopted a resolution on the appointment of Yatsenyuk to the post of prime minister.
Yatsenyuk earlier announced his resignation on July 24, 2014 in connection with the collapse of the coalition and the blocking of government initiatives. After consultations with President Poroshenko, Chairman of the Verkhovna Rada and leaders of parliamentary factions, it was decided to re-submit to Parliament the bills, which became the basis for Yatsenyuk's resignation. At an extraordinary meeting on July 31, the Parliament adopted two of the three bills and refused to accept the resignation of Yatsenyuk.
On February 16, 2016, the Verkhovna Rada voted to recognize the Cabinet's work unsatisfactory, but did not support a resolution of no confidence in the Government.
Read alsoNew version of Govt composition shown to mediaOn February 17, Yatsenyuk said the negotiations were underway on reformatting the government.
The same day, the Batkivshchyna faction left the coalition in connection with the Rada's failure to support the resignation of the Cabinet.
On February 18, Samopomich faction decided to stop participating in the coalition.
Chairman of the BPP faction Yuriy Lutsenko assured that his faction would not withdraw from the coalition, but found it impossible to work with the current government.
On April 10, Yatsenyuk announced his resignation from the post of prime minister. "From today, I see my tasks broader than the those within powers of the head of government," he said.
On April 12, Yatsenyuk's resignation letter was registered in Parliament and supported by the profile committee.