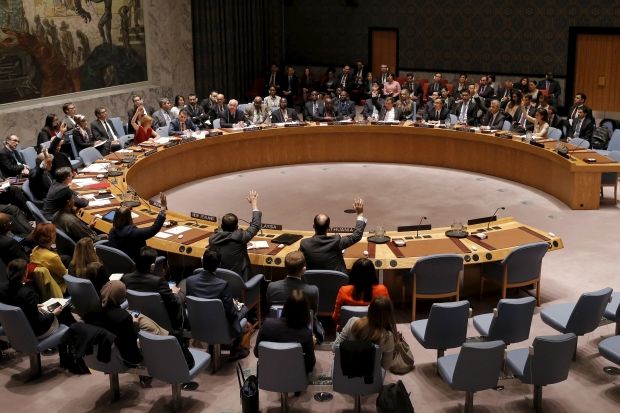 REUTERS
He said that the warmongering extremist ideologies pose a serious threat to international peace and security and strongly condemned the atrocities of the Islamic State of Iraq and the Levant (ISIL) and Al-Qaeda, according to the UN News Center.
Yelchenko said that despite the recent successes in the fight against international terrorist threats, particularly in regard to combating the financing of terrorist organizations from certain sources, the efforts in countering their propaganda is not concerted enough, as well as in the implementation of the relevant Security Council resolutions.
Read alsoUkraine's Envoy to UN compares scale of Chornobyl nuclear disaster with that of Russian aggression in DonbasHe called for joint efforts of governments, civil society and the private sector to counteract the use by terrorist groups of the internet and social networks for attracting new fighters and seeking resources to finance their activities.
Stating that under the international law "states are obliged to refrain from engaging in and to prevent acts of terrorism," Yelchenko said that "both obligations, as their essential element, include countering propaganda of terrorist ideology." This observation should be taken into consideration while assessing states` input in combating terrorism, he said.
"For more than 2 years, Ukraine has suffered from the aggression of its neighbour, the Russian Federation. Russia has temporarily occupied and attempted to illegally annex a part of the territory of Ukraine — the Autonomous Republic of Crimea and the city of Sevastopol — and continues hostile and subversive actions, supporting terrorism in the Donbas region," said Yelchenko. 
Read alsoPoland bans Russian propaganda journalist from entering Schengen zone - mediaHe went on to say that "Russia employs a broad range of hybrid warfare techniques, including financing terrorism, to promote ideology of the so-called 'Russian world'."
"This neo-imperialist ideology tolerates and encourages violation of the international law, human rights, perpetration of serious crimes, including terrorists acts," said the permanent representative of Ukraine to the UN.
Read alsoRussian propaganda reporters get Schengen visas annulled on Estonia borderAccording to Yelchenko, one of the key elements of "ongoing hybrid aggression against Ukraine" is "fierce, deceitful propaganda disseminated by the State-controlled Russian media." He added that this hybrid propaganda is a "machine based on Soviet and Tsarist experience, other totalitarian concepts, keeps working very well and in effective manner, first and foremost affecting the youth."
The permanent representative of Ukraine said there are reported cases of teenagers' participation in the activities of the Russian-backed terrorist organizations so-called "DPR" and "LPR", which attacked several times civilians in certain areas of the Donetsk and Luhansk regions of Ukraine, using armaments and munitions supplied by the Russian Federation.
Yelchenko called on the member states, "apart from comprehensive efforts to eliminate the social, economic, cultural, religious and other grounds for the spread of violent extremism and terrorism," to address such phenomena as "State propaganda of intolerance and hatred, as well as information wars, which often serve as part of hybrid warfare."
"Victims of terrorism should also play an important role in the above-mentioned comprehensive preventive campaign to combat extremist and terrorist ideologies and to counter their narratives," said Yelchenko. The permanent representative of Ukraine to the United Nations called for the establishment of theInternational Day of Commemoration of Memory of Victims of Terrorist Acts.