Russian Supreme Court upholds ruling in convicted Sentsov, Kolchenko case
Russia's Supreme Court refused on Wednesday to reconsider the sentence of Ukrainian filmmaker Oleh Sentsov and Ukrainian activist Oleksandr Kolchenko convicted in Russia for plotting terrorist acts in Crimea, according to Russian news agency TASS.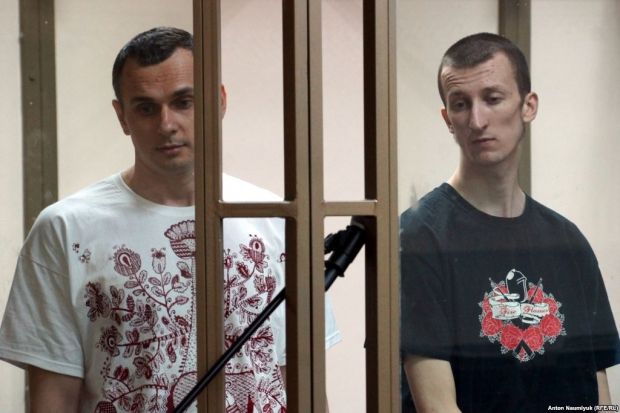 Sentsov, Kolchenko / Radio Liberty
Russia's highest judicial body for civil, administrative, criminal, and other cases ruled "to reject cassation appeal for consideration at a court session by the cassation court."
The court told TASS the decision against the consideration of the complaint against the sentence was taken on May 30 by the judge of military board on criminal cases of Russia's Supreme Court.
As UNIAN reported earlier, Ukrainian film director Sentsov was arrested by Russian security service officers in the annexed Crimea in May 2014 together with pro-Ukrainian activists Oleksandr Kolchenko, Oleksiy Cherniy and Hennadiy Afanasiyev. They were all charged with plotting terrorist acts.
Both men have denied their guilt from the day of their arrest.
Read alsoSentsov, Kolchenko sign papers for extradition from Russia in April – lawyerOn August 25, 2015, the military court in Russia's city of Rostov-on-Don sentenced Ukrainian film director Oleh Sentsov to 20 years in prison and Ukrainian activist Oleksandr Kolchenko to 10 years in prison, both were accused of terrorism and would be kept in a high-security penal colony.
On November 24, Russia's Supreme Court upheld the trial court's decision against Ukrainian film director Oleh Sentsov and Ukrainian activist Oleksandr Kolchenko.
On March 10, Russia's Justice Ministry received Ukraine's request to hand over director Oleh Sentsov and three sentenced Ukrainian citizens.
Later, it became known that the Russian Ministry of Justice had instructed the Federal Penitentiary Service to draft the documents for resolving the issue of transfer to Ukraine of four convicts, including film director Oleh Sentsov, for serving the remaining prison term in their homeland.
If you see a spelling error on our site, select it and press Ctrl+Enter