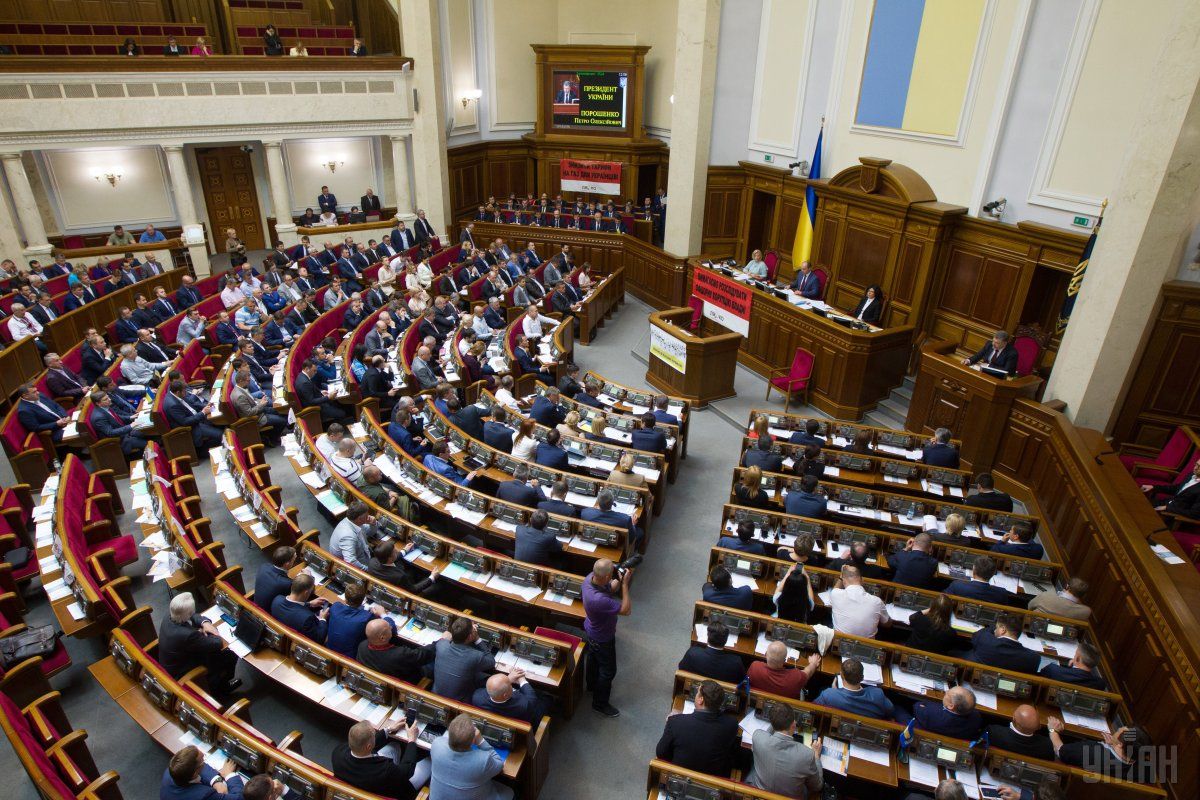 Photo from UNIAN
Relevant law No. 3524 was supported by 335 MPs out of 391 registered in the session hall.
In particular, 138 MPs from the Bloc of Petro Poroshenko faction backed this law. It was also supported by 80 MPs from the People's Front faction, 38 MPs from the Opposition Bloc faction, one MP from the Radical Party faction, 13 MPs from the Batkivschyna faction, 22 MPs from the Vidrodzhennia ["Renaissance"] faction, 18 MPs from the Volia Narodu ["Will of the People"] faction, and 25 independent MPs. No one from the Samopomich faction voted for the law.
The amendments determine the Supreme Court as the highest court in Ukraine's court system.
The amendments stipulate that a court shall be formed, reorganized and disbanded by a law whose draft shall be submitted to the Verkhovna Rada of Ukraine by the President of Ukraine, after consultations with the Higher Council of Justice.
The Higher Council of Justice will also decide on the dismissal of judges from office and transfer to another court, consent to detention or arrest of judges, and make decisions to suspend judges from the exercise of justice. The document stipulates the procedure of forming the Higher Council of Justice, which will consist of 21 members.
According to the law, a judge cannot be a member of a political party, a trade union; he or she cannot have representative mandate, occupy any other paid positions, but may engage in scientific, teaching and creative activity.
A citizen of Ukraine no younger than 30 and no older than 65 years with a degree in law and at least five years of work in the field of law is eligible to be appointed as a judge. Candidates for judges' positions should be professionals who abide by law and speak the national language.
Read alsoRada adopts presidential law on judicial system, status of judgesUnder the law, the Prosecutor's Office of Ukraine is headed by the Prosecutor General, who is appointed or dismissed by the President of Ukraine on the consent of the Verkhovna Rada. The Prosecutor General may hold office for six years. A person cannot hold the office of the Prosecutor General for two consecutive terms.
According to the transitional provisions of the current law, before the creation of the Higher Council of Justice, its duties shall be performed by the incumbent High Council of Justice.
The final and transitional provisions say that the law shall come into force three months from the day following the day of its publication, except for a number of certain provisions.
In particular, the provisions of Article 124, which says that "Ukraine may recognize the jurisdiction of the International Criminal Court under the conditions defined by the Rome Statute of the International Criminal Court," shall enter into force in three years that follow the day of the publication of this law.