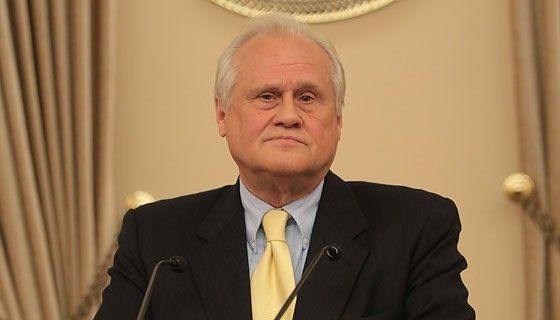 Sajdik has briefed journalists on the results of a latest Trilateral Contact Group meeting in Minsk / Photo from belta.by
"The issues of rebuilding the railways' management system and payment of wages to railway employees are being resolved positively but slowly," Sajdik told reporters on Wednesday, July 27, after a Trilateral Contact Group meeting in the Belarusian capital.
He explained that the subgroup on economic issues had again discussed in detail problems related to rebuilding the railway infrastructure in Donbas.
In particular, they tackled the issue of repairs to power transmission lines. To expedite the process, further talks on the subject will be conducted by the respective ministries of Ukraine and Russia, Sajdik said.
He also provided information on the other subgroups' performance. In particular, the subgroup on humanitarian issues had continued negotiating the release of hostages and had addressed the issue of missing persons. They also touched on the important subject of civilians crossing the contact line. The focal points were the opening of additional checkpoints and improvements in the performance of existing ones.
OSCE coordinator in the subgroup on humanitarian issues Tony Frisch, in turn, called on all sides to closely cooperate with the International Committee of the Red Cross (ICRC). In particular, he stressed the need to grant ICRC personnel access to places where captives are being held. Frisch also briefed the participants of the meeting on his tour of "separate districts of Luhansk and Donetsk regions." He visited and communicated with both parties to the conflict.
"The coordinator shared his impressions that civilians in the conflict zone wished for peace to be restored, so they can return home," Sajdik remarked.
Further, UNICEF representatives presented a children's rights protection road map at the meeting.
The subgroup on political issues continued discussing the modalities of local elections in occupied Donbas. Particular attention was paid to the role of the media in election campaigns and to financing.
The subgroup on security issues continued discussing ways of ensuring a sustainable ceasefire. "In that discussion, the sides focused on identifying sectors for disengagement," Sajdik added.
The next meetings of the Trilateral Contact Group are scheduled for August 3 and August 26.