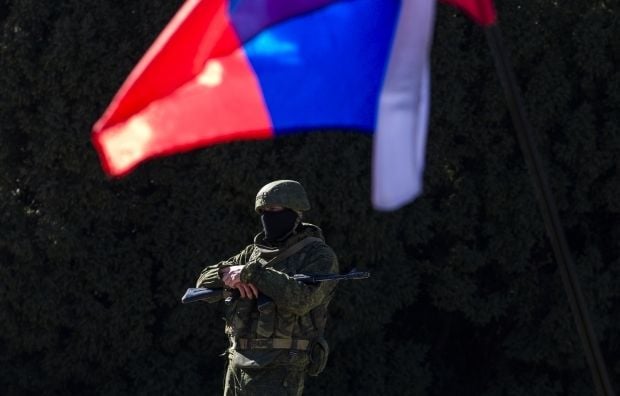 REUTERS
The Russian snipers operate in the vicinity of Mariinka, Slvanoye, Berezove, Novotroitske, Novohnativka, and Yasne (Donetsk region), according to the report by the Main Intelligence Department of Ukraine's Defense Ministry.
The snipers target both civilians and the Ukrainian military. They are also involved in conducting provocative fire in the direction of patrols of the OSCE Special Monitoring Mission.
Read alsoRussian sniper unit arrives in Donbas – IntelThe identified troops are:
Platoon commander Shabayev Yevgeny Sergeyevich, born April 27, 1980;
Deputy platoon commander, squad leader Alexander Yashin, born May 16, 1977;
Sniper Kolesnik Ivan, born August 27, 1986;
Sniper Burachevsky Artem Mikhailovich, born August 06, 1984;
Senior Sniper Mirniy Yevgeny Vasilievich, born April 09, 1990;
Sniper Honcharov Alexander;
Sniper Makarov Vadim Vyacheslavovich, born February17, 1989;
Sniper Tarasenko Dmitry Vladimirovich,  Born October 12, 1990;
Sniper – operator Osadchy Ernest Vladimirovich, born December 12, 1989;
Squad commander Stupnitsky Andrey Valeryevich, born July 22, 1973, a Russian citizen, living in Volgograd;
Senior Sniper Popkov Andrey, born July 26, 1971;
Sniper Vasilechko Yevgeny Aleksandrovich, born August 05, 1987;
Sniper Dotsenko Artur Fedorovich, born June 19, 1988;
Sniper Shapovalov Vladimir Valeryevich, born September 09, 1988;
Sniper Levitsky Ivan Nikolayevich, born March 23, 1990, a Russian citizen, residing in Ufa, the Republic of Bashkortostan;
Sniper Sadykov Gabdulla Rimovich, born January 18, 1991;
Sniper - operator Pisyaukova Viktoria Vladimirovna, born June 24, 198;
Squad commander Hafizov Marat Indusovich, born October 05, 1971;
Sniper Shavirin Ruslan Viktorovich, born September 20, 1993;
Senior Sniper Drizheruk Konstantin Grigoryevich, born February 02, 1988;
Sniper Garayev Airat Talgatovich, born October 11, 1972;
Sniper Galkin Yevgeny Igorevich, born March 26, 1983;
Sniper Baranov Nikolai Viktorovich, born April 22, 1991;
Sniper – operator Lysenko Andrey Leonidovich, born July 05, 1981;
Sniper Pinchuk Sergey Yurievich, born August 30, 1983.