The French MPs boast their visit to Russia-occupied Crimea / Photo from UNIAN
Today French parliamentarians, the five friends of the Kremlin, have decided to boast about how they were welcomed with foods and drinks in the occupied Crimea. For more than two years of the occupation by today, as many as 16 French parliamentarians – out of 577 – haven't disdained to meet with representatives of the Russian authorities on the peninsula occupied by the "brotherly nation." That was enough for the honest and independent Russian media to authoritatively state: the international community has almost realized what "Krymnash" [Our Crimea – a slogan used to celebrate the annexation of Crimea by Russia] means and is ready to replace the official term "annexation" with "reunion." The French guests were accompanied by Head of the Russian State Duma Committee on CIS Affairs Leonid Slutsky himself. Most likely, it was done to show the rest of the Commonwealth of Independent States how Russia respects the sovereignty and borders of its neighbors.
Read alsoMFA Ukraine on visit of French MPs to occupied Crimea: deliberate support to Russia's aggressionIt was a slick operation. Though not being Tier 1 politicians, these Frenchmen enjoyed the "deserved respect and attention." Having gathered in Moscow, they, with their words and smiles, almost virtually lifted Western sanctions from Russia, reinstating it in its "legitimate place" in dealing with European, international and intergalactic issues. Thierry Mariani, who led the French "delegation," put it bluntly: the situation in Crimea is getting better and better – more schools and roads are being built, while international ties are becoming stronger. The speech of the Frenchman who has won respect and esteem in Crimea was accompanied by a slide show: meetings with representatives of the occupying authorities and a gathering at the monument to the Russian invader troops, who during the first phase of the Russian military operation against Ukraine were affectionately dubbed "the polite people." He also claimed that there is no discrimination on the peninsula on ethnic grounds. So not to mar this optimistic statement, they chose not to mention dozens of jailed Ukrainian citizens, most of whom are Crimean Tatars. Who cares – there are only 22 missing Crimean Tatars. It's even not worth mentioning that seven of them have been found dead. Could it be important to the parliamentarian whose country's slogan is "Liberty, Equality, Fraternity?" Sure, it could not. It seems that the most important things are fraternity and equality – with Russia – and liberty [in actions], that's regarding Crimean "prosecutor" Natalia Poklonskaya's authority.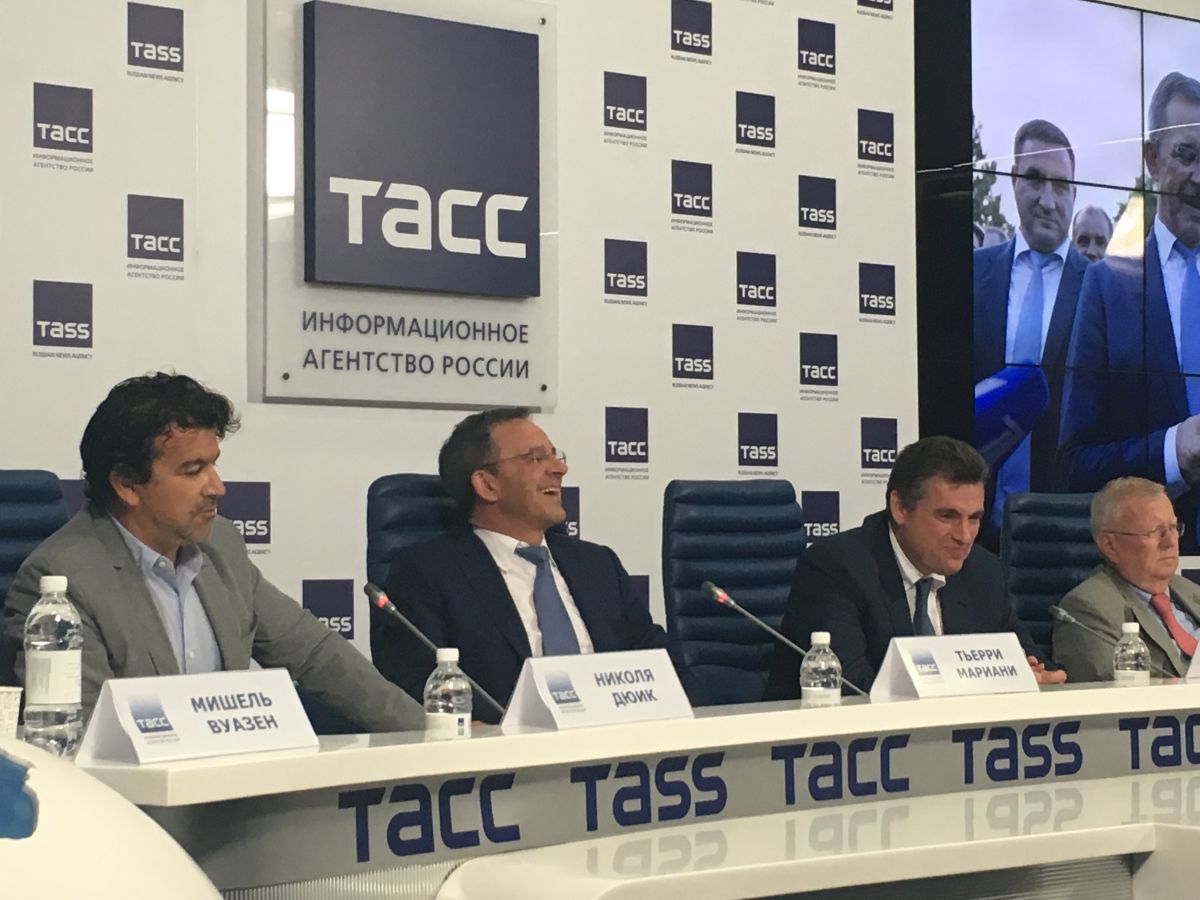 Mariani soaked up Russian-style "superiority" in Crimea / Photo from UNIAN
The foreign guests, while talking about Crimea, quoted the French saying: "The Mass has been celebrated" – and proposed that immediately, on the spot, here in Moscow, they could start tackling the problems of Donbas. And – presto! They were tout de suite invited to a "safari" in the occupied territory of eastern Ukraine. The Kremlin must be pleased.
At this point I could not resist temptation and decided – just for a bit! – to intervene in this touching Russian-French idyll, which was threatening to translate into a cuddle party along with playing Russian Matryoshka dolls and drinking vodka. My simple question was: how much did the Russian side pay the French legislators for their justification of the act of international aggression.
Read alsoFrench MPs visiting Crimea took part in infamous propaganda show: Human rights activistFor some reasons, this trivial curiosity turned Monsieur Mariani hysterical. The French politician described my question, as he put it, as "cr*ppy" and "disgusting." Then – this is the first time I experience such a thing – the deputy of the National Assembly of France (!) officially expressed his contempt to me and asked … how much I earn! To be on the safe side, I decided not to reveal the figures (what if by chance he cooperates not only with the Russian authorities, but also with Ukrainian tax agencies). But I made a mental note of the fact that, obviously, the Monsieur or – better say – Comrade Mariani had actually been well received in Crimea…
Read alsoFrance's foreign ministry responds to French MPs' visit to occupied Crimea So well that it took the high-ranking representative of the French Republic just a couple of days to get used to the questions that may highlight the speaker's greatness. After all, the phrase "question de merde" in French (translated as "a cr*ppy question" in English) sounds – let's say – somewhat supercilious.I had a feeling that while visiting Crimea, Mariani soaked up Russian-style "superiority" and acquired the skills of "being good" with the media. And he passed this "test" with super-duper results. His Russian "host instructors" met his answer to my questions with applause.
Well, while enjoying his superiority, this Monsieur forgot to answer my first question (indeed, the second one was a "question de merde," and Mariani focused on it, but, as they say, tastes differ). The first question was: "Should members of [Russia's] State Duma apply for a French visa if they plan to visit Corsica in case of military occupation of the island by the Russian army and a referendum on its accession to the Russian Federation?"
…It is also interesting that Putin's French comrades decided not to answer the question about how much they had been paid for their vacation in the Ukrainian Crimea under occupation. Yet, they did not debunk the very idea about the reward. Hopefully, my French colleagues will have a chance to ask them, how much a parliamentarian from their country is paid per night.
Roman Tsymbaliuk, Moscow