Singer Matviyenko blames herself for coalition collapse
"I voted namely for..."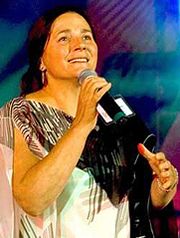 "I voted namely for this coalition, for all these years I campaigned for it at elections", says people's artist of Ukraine Nina Matviyenko, a famous folk singer. UNIAN asked her to comment on the death of the democratic coalition.
"Who will I vote for at the regular election?! – grieves Mrs. Matviyenko, adding: "If I vote for one side, the other one won't understand me… It's a kind of shock for me… I thought somehow everything will be solved and this will not happen… Please give a call in a couple of minutes, I've really got a headache", the singer said.
In a couple of minutes, Nina Matviyenko said she "calmed down a little", and advised not to focus on problems, because the nation still lives on its own land, and sometime the authorities will bow to the nation.
"There was always somebody who destroyed something in our country", the people's artist added. – "When the orange team won, I thought "well, it will never repeat any more". It was such a solid coalition, of such interesting people… But, as they say, there's always a mouse that makes a little hole… I blame myself for I did not pray much, I had to light a candle for them more often", she said.
If you see a spelling error on our site, select it and press Ctrl+Enter