Political council of Our Ukraine to study issues on breakup of coalition – Onishchuk
Justice Minister Mykola Onishchuk...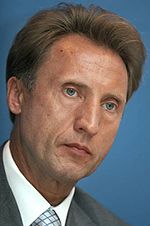 The Political Council of Our Ukraine will carry out the session on September 20, on Saturday in order to study the issue concerning break up of the parliamentary coalition and resignation of Arseniy Yatsenyuk from the post of the Speaker of the Verknovna Rada.
According to an UNIAN correspondent, Justice Minister Mykola Onishchuk (member of the government on quota of the OU-PU) said this to journalists in the Cabinet of Ministers today.
The Minister did not rule out that during the session of the political council they will also study the issue concerning further stay of the Ministers from the Our Ukraine in the structure of the government.
If you see a spelling error on our site, select it and press Ctrl+Enter