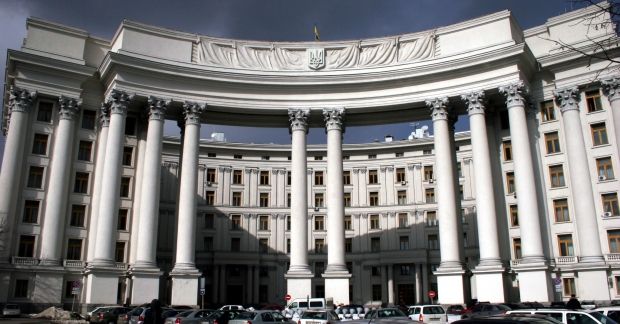 Photo from Ukraine's MFA Facebook
"The Foreign Ministry of Ukraine has officially sent a note to the OSCE (Organization for Security and Cooperation in Europe) Special Monitoring Mission (SMM) to Ukraine about the need to increase the OSCE SMM's presence along the entire administrative border with the Autonomous Republic of Crimea and along Ukraine's border with the Russian Federation, including the temporarily uncontrolled stretch of the Ukrainian-Russian state border," the ministry said in a statement.
The Ukrainian ministry also insisted that the OSCE SMM undertake measures to gain access to Crimea to assess the situation on the Russian-controlled territory of the peninsula in keeping with Resolution No. 1117 by the OSCE Permanent Council on deploying the OSCE SMM to Ukraine.
Read alsoUkraine's Foreign Ministry issues statement condemning Russia's provocationsThe ministry said it had also asked the OSCE SMM, the International Committee of the Red Cross and the UN Human Rights Monitoring Mission in Ukraine to take steps to gain access to Ukrainian citizens detained by the Russian authorities, including Yevhen Panov, who was arrested on suspicion of plotting an act of sabotage in Crimea.
The Russian Federal Security Service (FSB) announced on August 10 that it had averted attempts by Ukrainian sabotage groups to enter Crimea. The FSB also said it had eliminated the Ukrainian Main Intelligence Directorate's network in Crimea and detained the saboteurs. Ukrainian citizen Yevhen Panov, resident of Zaporizhia region's town of Enerhodar, was among those detained.
In response, Ukraine's police opened a criminal case in connection with the kidnapping of Panov.