Poroshenko: No more step further until Russia honors Donbas commitments
Ukrainian President Petro Poroshenko has said Ukraine will not make any further steps in the settlement of the situation in Donbas without Russia's honoring its commitments to ensure security there.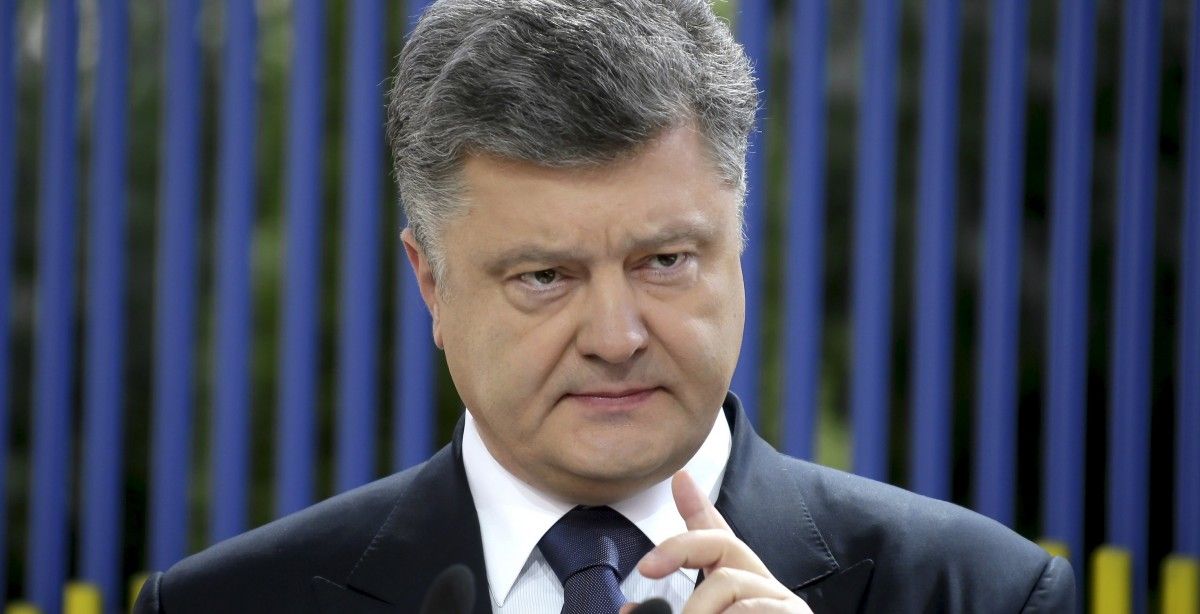 REUTERS
"I am often blamed. They say that the Ukrainian side continues 'to resist' and does not move forward on the political track of the Minsk process. I repeat once and forever: we have already turned the other cheek. Turned so, that hardly stayed alive. No more step further until the Russian side goes its own distance on the security track," Poroshenko said addressing the 13th Yalta European Strategy Annual Meeting, which is being held in Kyiv on September 15-17.
It is the security issue that is a key to a peaceful settlement in Donbas, according to the president.
"And, that is why I have suggested an effective approach – a 'roadmap' containing sequence of interlinked steps on political and security tracks with the guarantee of their implementation. We do know very well from the Budapest memorandum what the guarantees are. This cannot happen again," he said.
"Our demands are very simple. Russia must ensure a sustainable and comprehensive ceasefire in Donbas. In the last day, we've have seen what the truce proclaimed by Russia means – we were promised a ceasefire, but more than 30 attacks, including mortar and artillery ones, have been mounted," Poroshenko stressed.
The president stressed that Russia should stop supplying its regular army, heavy weapons, ammunition and military equipment to the Ukrainian territory; provide the OSCE Special Monitoring Mission (SMM) with unhindered access to the occupied territory of Donbas and Crimea; and ensure international observers' full access to the temporarily uncontrolled part of the Ukrainian-Russian border.
"If you ask me what the key indicator of our security is in figures, I will say: it is 409 km 300 m of uncontrolled part of the Ukraine-Russia border. If we close the border, there will be no conflict in Ukraine. Take away the occupation forces, take away weapons and we will reach an agreement and settle everything," he said.
"That is why the next demand stipulated by the Minsk agreements is to withdraw Russian troops from the territory of Ukraine, release Ukrainian hostages and political prisoners (Oleh Sentsov, Oleksandr Kolchenko, Mykola Karpyuk, Stanyslav Klykh, and dozens of others)," he noted.
As UNIAN reported earlier, German Foreign Minister Frank-Walter Steinmeier said the ceasefire had entered into force in Donbas on the night of September 15, which would last at least for a week.
"We came to Kyiv with the pledge from Moscow that the separatists' weapons will fall silent at midnight," he said at a joint press conference with his Ukrainian and French counterparts in Kyiv on Wednesday, September 14.
He also said that while meeting with Ukrainian President Petro Poroshenko on the same day the Ukrainian authorities had confirmed that Ukraine had been observing the ceasefire.
The German foreign minister is hopeful of further disengagement in case the ceasefire is observed, it was reported.
"We hope that the Trilateral Contact Group will agree on this particular issue at a meeting next Tuesday," Steinmeier said.
Read alsoKremlin: No Donbas ceasefire promises given to Germany as Russia "not party to conflict"Yet, the Kremlin denied that Russia had made any ceasefire pledges to Germany as it is not "a party to the conflict" in Donbas.
If you see a spelling error on our site, select it and press Ctrl+Enter