Ukraine FM on Donbas: 'Russia should be out' – DW
While Ukraine struggles to implement key conditions of the Minsk agreements, its Foreign Minister Pavlo Klimkin called on Russia to leave Donbas in an exclusive DW interview.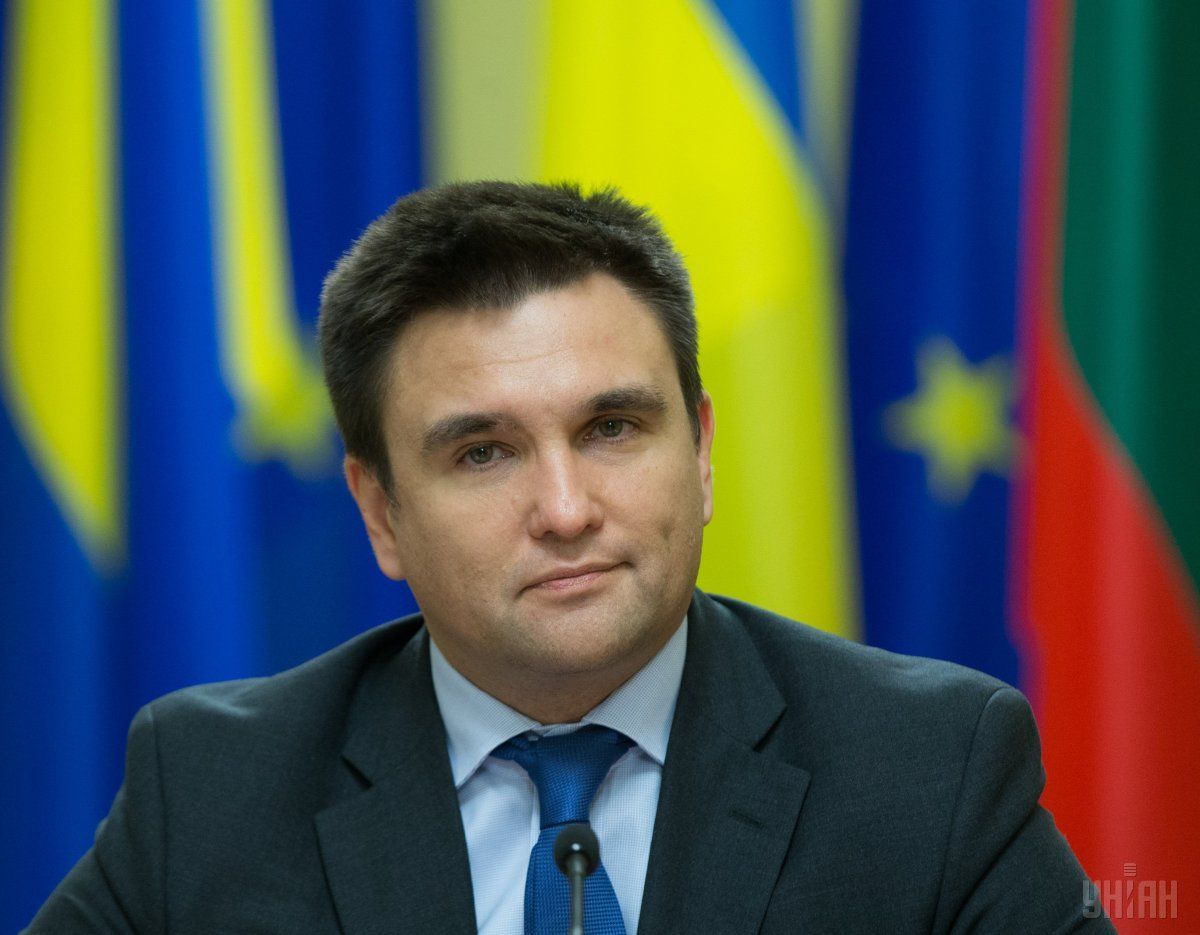 Photo from UNIAN
"My fundamental point [is] security should be there and Russia should be out, in order to get Donbas back into Ukraine," Klimkin told DW.
He said western sanctions on Moscow should remain in place until Russia is "literally out of Ukraine." Allowing Russia to attack an independent country would be like "opening Pandora's box."
In an attempt to end the conflict in eastern Ukraine, both Kyiv and pro-Russian separatists from Donetsk and Luhansk signed the Minsk II settlement in February 2015. Today, key aspects of the agreement such as the withdrawal of heavy weapons or the exchange of prisoners have yet to be implemented. So is Minsk dead? "No," Klimkin told Tim Sebastian on Conflict Zone.
"Minsk is simple and easy, if you want to implement that. We have fundamental differences with Russia on how we understand Minsk. Russia wants to legalize [a] Russian protectorate in Donbas and for that they need firstly the vote [in the Ukrainian parliament] and after that [it's about] getting Russia out of Donbas and getting the OSCE to control Donbass to get real security," the Foreign Minister said.
After Russian President Vladimir Putin annexed Crimea, heavily armed separatists, backed by Moscow took over parts of the Donetsk and Luhansk regions in eastern Ukraine. In 2014, they declared themselves independent republics. Thousands of Ukrainians have been killed in the fighting to suppress the separatists. Kyiv and western countries say Russian volunteers and regular troops actively support them. Both the U.S. and the EU have imposed sanctions against Moscow. They also called for reforms in Ukraine. While the sound of heavy artillery has subsided in eastern Ukraine, no steady ceasefire is yet in sight.
Read alsoKlimkin: German, French FMs don't force Ukraine to give special status to DonbasAnother central element of Minsk II is a constitutional reform in Ukraine to grant formal autonomy to the separatist regions. The first vote in August 2015 was overshadowed by violent protests; the second has been postponed. 
In September 2016, the U.S. Vice President Joe Biden warned Ukraine's President Petro Poroshenko that unless his country lives up to the promises of economic and political reforms, the EU may lift sanctions on Russia: "Everybody's willing to blame the victim, and you better straighten up and fly right."
DW's Tim Sebastian asked: "Sanctions have not achieved anything in terms of changing the situation on the ground, have they? So how long do you want the sanctions to go on, because European business and American business are taking a hit, to continue with these sanctions?"
Klimkin said: "Firstly, sanctions should be there until Russia is literally out of Ukraine. And I believe in people and countries making free choices. And [these are] your choices, choices of Ukraine becoming a real success and it's what we must deliver in order to survive and to get our success."
Tim Sebastian also addressed another major issue in Ukraine: corruption. In a recent visit, Penny Pritkzer, the U.S. Commerce Secretary urged Kyiv to step up its anti-corruption efforts: "You have to take action now." Transparency International said that despite "assurances that Ukrainian politicians want to fight corruption, in reality the opposite is true." Klimkin denied the charge and said that his government was, indeed, battling corruption and "delivering" results.
If you see a spelling error on our site, select it and press Ctrl+Enter