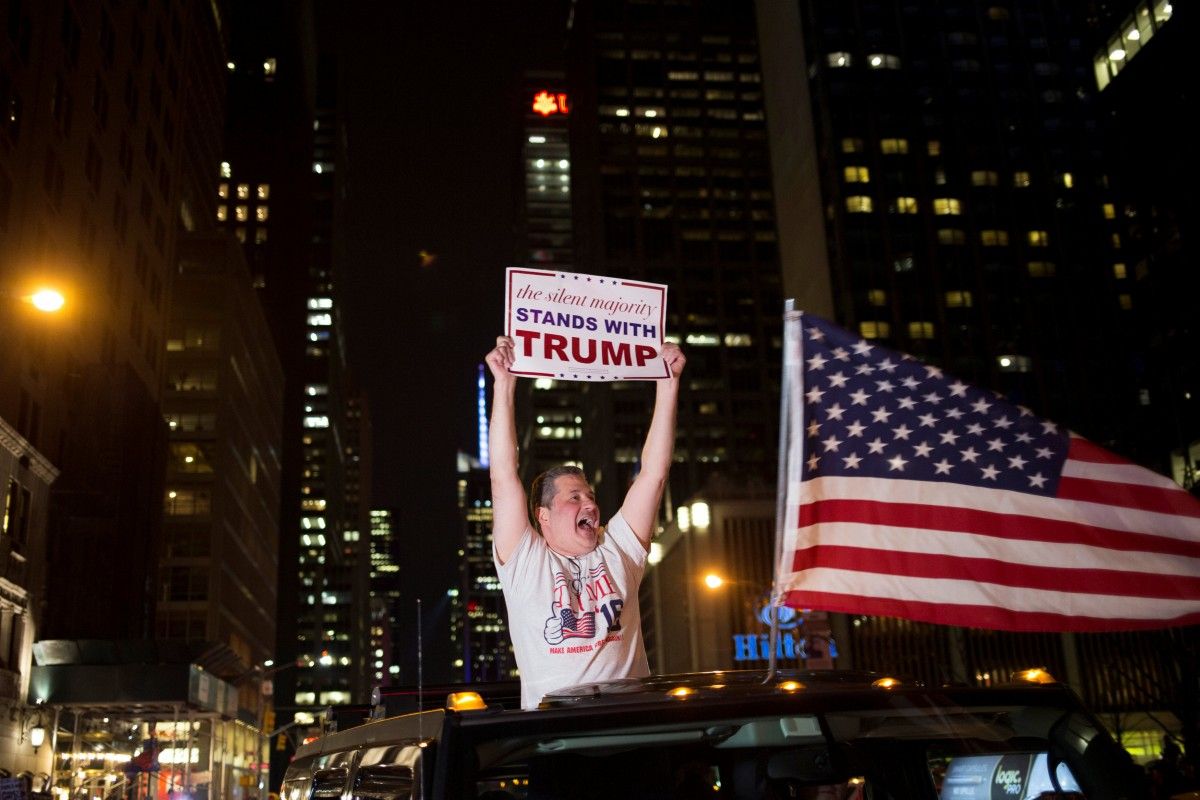 REUTERS
Deputy head of Presidential Administration of Ukraine, Secretary of the National Reform Council Dmytro Shymkiv said that Ukraine would cooperate with Donald Trump. "We will work with Trump," Shymkiv said.
Ukrainian Prime Minister Volodymyr Groysman also congratulated Donald Trump on his victory in the U.S. presidential election.
"My greetings to American people on electing their new president. My greetings to Mr. Donald J. Trump on his victory. I am wishing the United States peace and prosperity and hope that the new administration will continue its support for Ukraine," Ukrainian Prime Minister Volodymyr Groysman wrote on Facebook.
Ukrainian Deputy Minister of Foreign Affairs Vadym Prystaiko said before the meeting of the Cabinet of Ministers on Wednesday that after the victory of Republican candidate Donald Trump in the U.S. presidential election, the Ministry of Foreign Affairs of Ukraine considers further appointments in the Administration of the new president, including the post of Secretary of State, the Secretary for Security and the National Security Adviser, an important indicator of bilateral relations.
"We need to understand how this will affect us. But we look forward to many stabilizing factors, not only in American society, but also in the establishment. And the statements that were made, I think they were made for the campaign. It is an important indicator, who will be elected as Secretary of State, Secretary for [Homeland] Security, the National Security Advisor. These things will be important as an indicator," he said.
Former Foreign Ministry spokesman Vasyl Filipchuk said that now we have to live in the new geopolitical realities. "The United States has changed itself. Voting results is a flipped middle finger from somewhere in the Colorado toward the old American elite, which has gone too far in its exclusive use of power in the world's most powerful country. The same way as it was with Brexit, yesterday's vote was not "for," but "against," he wrote on Facebook.
Radical Party leader Oleh Liashko has expressed hope that "allovertures of presidential candidate Trump toward Putin were nothing more than campaign rhetoric."
Ukrainian MP Anton Gerashchenko is convinced that the victory of Donald Trump will not help Putin continue to implement his aggressive policy toward Ukraine and other countries. "Despite the fact that Trump has become the U.S. president, his policies against the aggressive actions of Russia cannot be changed instantaneously, as the U.S. Constitution and the political tradition does not allow the president to be a petty tyrant," he said.
MP Viktor Chumak said that "there always be McCain for each Trump." He also wrote: "God bless America, and us to do our job."
Ukrainian political expert Vadym Karasiov, the director of the Institute of Global Strategies, said that Trump's victory is a chance to be cleansed of illusions, adjust internal and foreign policy, become wiser and stronger. The main thing is "to move away from illusions that someone will solve our problems for us, we should solve them ourselves."
A spokeswoman for Ukrainian Prosecutor General Yuriy Lutsenko Larysa Sargan must have been impressed by the results of the elections in the United States as she wrote on Facebook: "America, when did you go crazy?"
Member of Parliament from the pro-presidential Petro Poroshenko Bloc Mustafa Nayyem drew parallels between Trump and Yanukovych. "A country that survived Viktor Yanukovych will survive Donald Trump. If anything, we can share the experience."
Former Deputy Prosecutor General David Sakvarelidze believes that Donald Trump "roughly speaking, has flogged with his whip all the "holy cows" of U.S. policy."
In turn, MP Igor Lutsenko saw positive prospects for Ukraine in case of the victory of Donald Trump in the U.S. presidential election: "In case of the victory of Donald Trump, the issue of lethal aid to Ukraine can be unlocked and an option is likely to be offered of arms sales with deferred payments."
MP from the People's Front Viktoria Siumar, commenting on the election results in the U.S., has advised Ukrainians to "rely on their own strength and not to wait for help from foreign partners."