U.S. Senators Graham, McCain to visit Ukraine late Dec
Deputy Prime Minister for European and Euro-Atlantic integration of Ukraine Ivanna Klympush-Tsintsadze and Ambassador of Ukraine to the United States Valeriy Chaly met with Chairman of the U.S. Senate Appropriations Subcommittee on Commerce, Justice, Science, and Related Agencies, member of the Senate Committee on Armed Forces, Committee on Legal Affairs budget Lindsey Graham.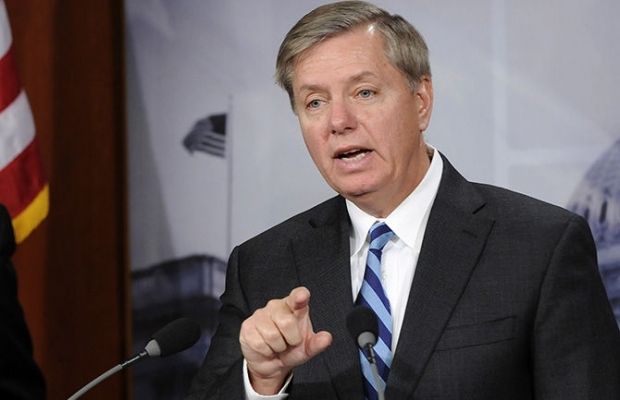 REUTERS
Senator Lindsey Graham and chairman of the Senate Armed Services Committee, McCain will arrive in Ukraine in late December, as reported by the press service of the Ukrainian Embassy in the United States.
"Senator Graham has assured that the issues of Ukraine support will continue to be among  priorities of his activities and in this context he confirmed his intention to visit our country at the end of December, together with the chairman of the Senate Armed Forces Committee John McCain," the report says.
Read alsoTrump names pro-Ukraine CIA DirectorDuring the meeting, the parties discussed the priority issues related to countering Russian aggression against Ukraine.
Deputy Prime Minister and the Ambassador of Ukraine thanked Graham for his support in adoption of bills on Congress providing for an increase in U.S. aid to Ukraine. Special attention at the meeting was given to further joint steps to ensure the adoption by the Senate and the introduction of the law "On the support of stability and democracy in Ukraine."
Read alsoU.S. Congress approves defense budget for 2017, providing for military aid to UkraineAs UNIAN reported earlier, Sen. John McCain, the chairman of the Senate Armed Services Committee, in his first shot across the bow of President-elect Donald Trump's national security plans, said that any attempt to "reset" relations with Russia was unacceptable.
"We should place as much faith in such statements as any other made by a former KGB agent who has plunged his country into tyranny, murdered his political opponents, invaded his neighbors, threatened America's allies and attempted to undermine America's elections," he said.
If you see a spelling error on our site, select it and press Ctrl+Enter