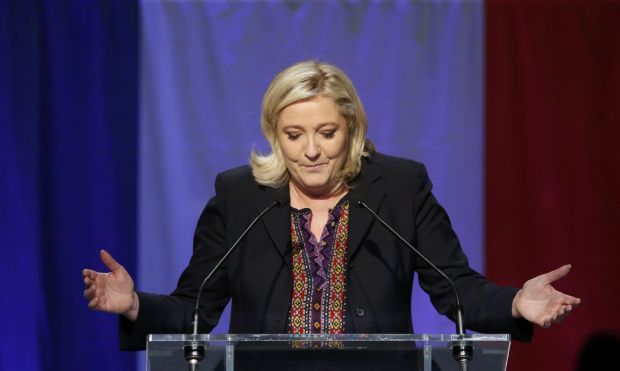 REUTERS
"I do not believe that there was an illegal annexation: there was a referendum, the citizens of Crimea wanted to join Russia," the far right party boss told BFM TV, Le Figaro reports.
Marine Le Pen also called for the establishment of "strategic relations" between France and Russia in the fight against the Islamic State group.
As Britain's Express reported earlier in December 2016, Le Pen was set to face intense scrutiny from U.S. intelligence services after she requested a $30 million loan from a Russian bank, according to reports.
The National Front leader has allegedly asked for the money to bankroll her campaign to become France's president next year from a bank which is believed to have close ties to Russian president Vladimir Putin.
Read alsoFrance's Hollande "not running for second term" - mediaFrench media outlet Le Canard Enchaine is reporting Le Pen's Russian ties have prompted Mike Turner, a Republican on the House of Representatives' permanent select committee on intelligence, to urge U.S. authorities to investigate the matter.
UNIAN memo. Russia annexed Ukraine's Crimea in March 2014 after its troops had occupied the peninsula. An illegal referendum was held for Crimeans to decide on accession to Russia.
De-facto Crimean authorities reported that allegedly 96.77% of the Crimean population had voted for joining Russia. On March 18, 2014, the so-called agreement on the accession of Crimea and the city of Sevastopol to Russia was signed in the Kremlin.
The West did not recognize the annexation in response to which sanctions against Russia were introduced. Ukraine's parliament voted to designate February 20, 2014, as the official date when the temporary occupation of Crimea began.