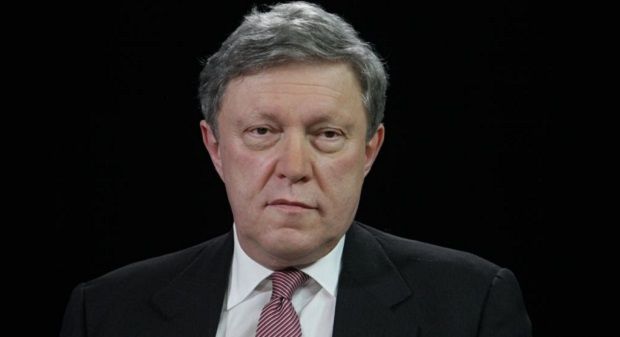 Yavlinsky was nominated for the president of Russia in February 2016 / Photo from svoboda.org
The program was announced by Yabloko's press service on January 17 and is available on Yavlinsky's personal website, Krym.Realii wrote.
The program includes the following statement: "Any form of forceful intervention in the internal affairs of Ukraine, as well as the incitement and propaganda of war should be stopped. Commitments to Ukraine's territorial integrity and respect by Russia of its international obligations should be declared at the highest state level."
Yet, Yavlinsky emphasizes that "the implementation of these obligations on Crimea should be inextricably linked with the respect for the dignity and interests of all the residents of the peninsula, it requires a special plan, time, special status, international guarantees, an international conference. However, this does not undo the fact that Crimea is territory of Ukraine, annexed in defiance of international law and agreements signed and ratified by Russia."
Read alsoU.S. envoy to UN: Russian aggression poses threat to international orderSpeaking in a televised debate on Russian TV on September 2, 2016, the founder of the Yabloko party said that Russia's war against Ukraine is "absolute and complete disgrace."
When meeting with journalists in May 2016, Yavlinsky called on the Russian government "to announce that the annexation of Crimea is an unlawful act and that Crimea is not ours."
Read alsoUkraine lodges claim against Russia with International Court of JusticeYavlinsky was nominated for the president of Russia at the Yabloko Party's congress in February 2016.
UNIAN memo. Russia annexed Ukraine's Crimea in March 2014 after its troops had occupied the peninsula. An illegal referendum was held for Crimeans to decide on accession to Russia. De-facto Crimean authorities reported that allegedly 96.77% of the Crimean population had voted for joining Russia. On March 18, 2014, the so-called agreement on the accession of Crimea and the city of Sevastopol to Russia was signed in the Kremlin. The West did not recognize the annexation in response to which sanctions against Russia were introduced. Ukraine's parliament voted to designate February 20, 2014, as the official date when the temporary occupation of Crimea began.