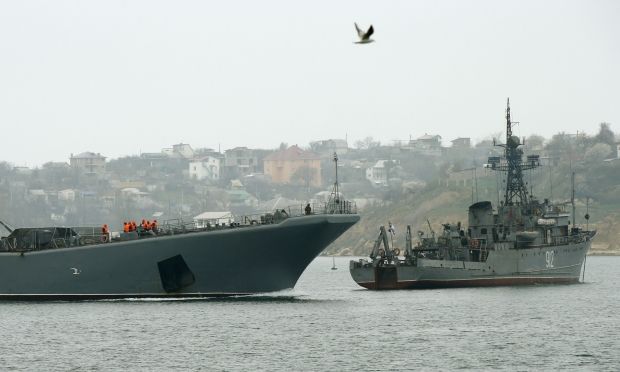 REUTERS
According to The New York Times, Andrii V. Artemenko, the Ukrainian lawmaker, who sees himself as a Trump-style leader of a future Ukraine, claimed his plan would require the withdrawal of all Russian forces from eastern Ukraine. Ukrainian voters would decide in a referendum whether Crimea, the Ukrainian territory seized by Russia in 2014, would be leased to Russia for a term of 50 or 100 years.
"A lot of people will call me a Russian agent, a U.S. agent, a C.I.A. agent," Mr. Artemenko said. "But how can you find a good solution between our countries if we do not talk?"
Read alsoU.S. Senate Judiciary Committee seeks full briefing, transcripts of Flynn callsMr. Cohen, the president's personal lawyer, and Mr. Sater, a business associate who helped Mr. Trump scout deals in Russia, said they had not spoken to Mr. Trump about the proposal, and have no experience in foreign policy. Mr. Cohen is one of several Trump associates under scrutiny in an F.B.I. counterintelligence examination of links with Russia, according to law enforcement officials; he has denied any illicit connections.
Mr. Sater, 50, a Russian-American, pleaded guilty to a role in a stock manipulation scheme decades ago that involved the Mafia. Mr. Artemenko spent two and a half years in jail in Kyiv in the early 2000s on embezzlement charges, later dropped, which he said had been politically motivated.
"I want to stop a war, number one," Sater said. "Number two, I absolutely believe that the U.S. and Russia need to be allies, not enemies. If I could achieve both in one stroke, it would be a home run."
After speaking with Mr. Sater and Mr. Artemenko in person, Mr. Cohen said he would deliver the plan to the White House.
He said Mr. Sater had given him the written proposal in a sealed envelope. When Mr. Cohen met with Mr. Trump in the Oval Office in early February, he said, he left the proposal in Mr. Flynn's office.
Read alsoSenator Graham: Trump must punish Russia for election interference – ABC NewsWhile it is unclear if the White House will take the proposal seriously, the diplomatic freelancing has infuriated Ukrainian officials. Ukraine's ambassador to the United States, Valeriy Chaly, said Mr. Artemenko "is not entitled to present any alternative peace plans on behalf of Ukraine to any foreign government, including the U.S. administration."
The Ukrainian ambassador, Mr. Chaly, rejected a lease of that kind. "It is a gross violation of the Constitution," he said in written answers to questions from The Times. "Such ideas can be pitched or pushed through only by those openly or covertly representing Russian interests."
Mr. Cohen said he was waiting for a response when Mr. Flynn was forced from his post. Now Mr. Cohen, Mr. Sater and Mr. Artemenko are hoping a new national security adviser will take up their cause.