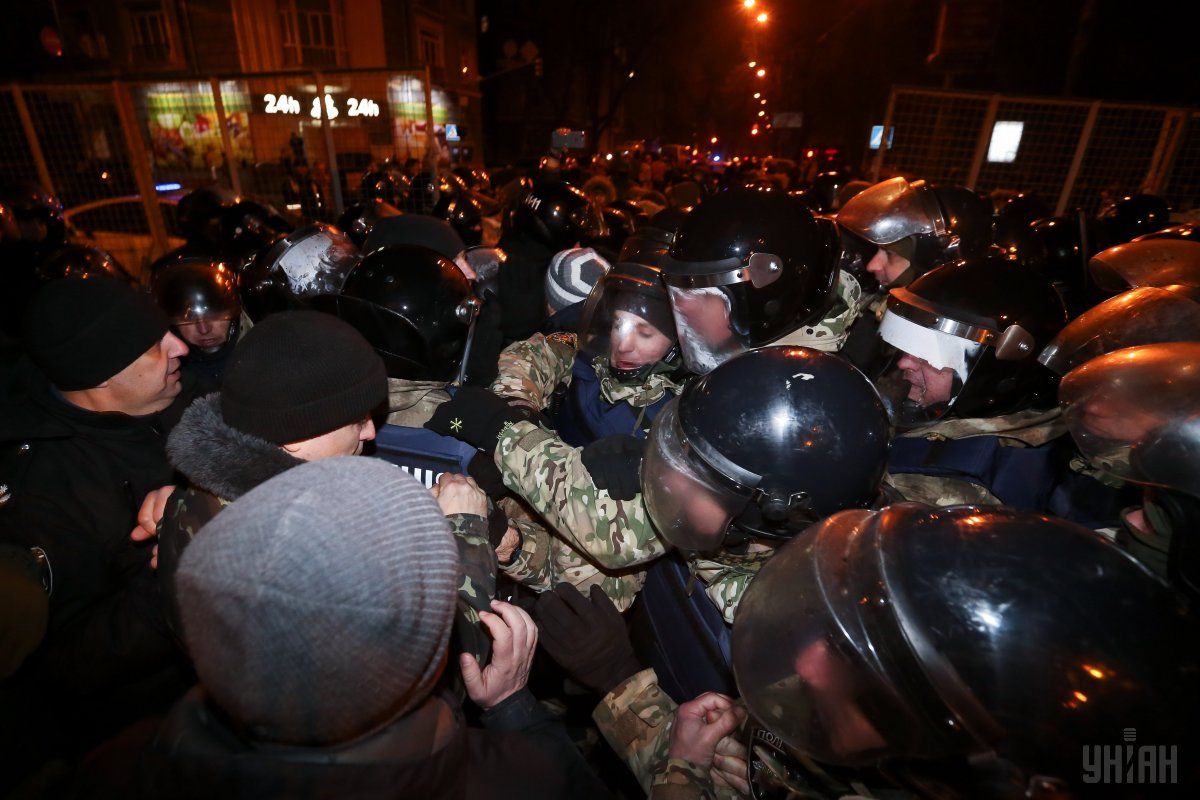 Photo from UNIAN
The threat of coal shortages has alarmed the government in Kyiv, which has instituted emergency measures to forestall widespread blackouts. Activists will likely agree to end the blockade before the situation reaches that point, but Donbas will remain tense as conditions for violence ripen along the front lines, Stratfor said.
The blockade was initiated in late January by a group of around 100 activists consisting largely of veterans of the Donbas war and opposition lawmakers, most notably from the right-wing Samopomich party. The activists have targeted several railway lines that are used to ship anthracite coal produced in occupied areas in Donetsk and Luhansk regions to thermal-electric plants elsewhere in Ukraine.
Anthracite coal is a key input for Ukrainian thermal power plants that supply electricity for households and industries alike. All of Ukraine's anthracite mines — the majority of which are owned by Rinat Akhmetov, an influential eastern Ukrainian oligarch who is unpopular with groups like Samopomich — are located in Donbas, particularly in territories now controlled by separatists. In fact, some 9 million of the 24 million tonnes of coal that Ukrainian power stations require annually comes from separatist-held areas.
Read alsoClashes in Kyiv: Policeman injured, OUN Battalion chief detained (Video, photos)The activists argue that trade with the occupied territories is inappropriate given the ongoing conflict. They have also condemned what they describe as rampant smuggling taking place across the line of contact. "But their motives are largely political. Samopomich, for example, is attempting to appeal to groups of voters — including in western Ukraine, where nationalism runs highest — who feel that Ukraine's leadership is profiting from the conflict through its trade with Donbas," Stratfor analysts said.
As a result, the blockade has been criticized not only by the self-proclaimed republics' leaders but also by the Ukrainian government. Ukrainian Prime Minister Volodymyr Groysman has said that the stoppage is creating a shortage of anthracite coal for Ukrainian thermal power plants, putting the supply of electricity to consumers across the country at risk. On February 20, Groysman called for an urgent settlement to the matter. So far, the activists have shrugged off such pressure, saying the blockade is needed to end Ukraine's energy dependence on the occupied territories, along with trade and the inflow of contraband.
Ukraine's ability to cope with the blockade is limited. On February 14, Ukrainian Minister of Energy and Coal Ihor Nasalyk said the country had around 842,000 tonnes of anthracite coal in reserves, while average daily consumption of the resource is 30,000 tonnes. This equates to enough supplies to keep power-generating systems operational for around 33 more days at normal rates of consumption. On February 15, the Ukrainian government enacted a month-long provisional state of emergency that came into force two days later limiting the use of coal supplies for energy generation and encouraging alternatives such as nuclear power. Ukrainian state energy firm Ukrenergo has guaranteed the stable operation of the national energy system, without power blackouts, until at least March 15.
"To mitigate political blowback, the government is moving to pre-empt any potential blackouts and firmly place the blame on Samopomich. It is quite possible that the blockade could be settled through compromise legislation that labels the rebel territories as 'Russian occupied' as a symbolic gesture to the protesters. Because the blockade is also being criticized by the United States, the European Union and ambassadors of G7 countries, the party will be under pressure on several fronts to agree to a deal," Stratfor said.
Read alsoG7: Blockade of coal supplies from occupied Donbas threatens Ukraine's energy securityIn fact, blockade activists and the Ukrainian government reportedly exchanged proposals on February 21 related to lifting the blockade. "So, the threat of significant blackouts and a long-term blockade is not very serious yet," Stratfor analysts concluded.
Nevertheless, the situation in Donbas is precarious, since a ceasefire agreement reached last week at the Munich Security Conference shows no signs of holding. Fighting along the eastern Ukrainian line of contact initially escalated on January 29, but a localized ceasefire on February 4 briefly led to a decline in fighting. The truce allowed for some repairs to local infrastructure to take place in Avdiyivka, a town outside of Donetsk that is home to an important coke factory. Over the past week, however — coinciding with the negotiations in Munich — the number of attacks on Ukrainian government positions and the number of people wounded and killed have returned to the levels seen prior to the ceasefire.
Reports also indicate that large numbers of fresh fighters continue to arrive in Donetsk, as well as heavy equipment such as tanks and Grad multiple rocket launcher systems. Moreover, when fighting first escalated in late January, Ukrainian forces advanced to new positions around Avdiyivka, inside the no man's land between them and separatist forces. The infusion of fighters and equipment — now in closer proximity to one another — increases the odds of skirmishes and sustained back-and-forth artillery fire. "However, there is nothing yet to suggest that a larger offensive that would fundamentally reshape the front line is in the making," Stratfor said.