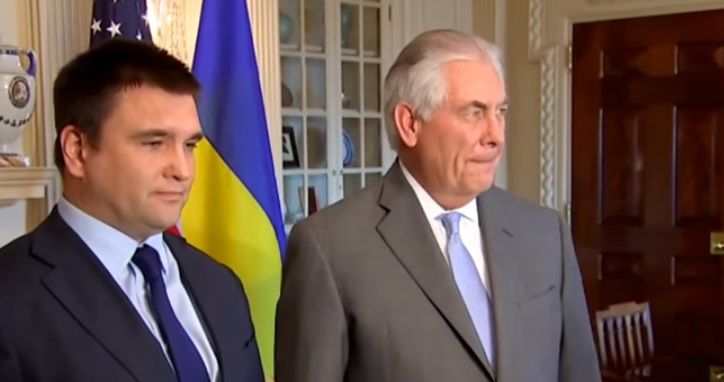 Klimkin and Tillerson / screenshot
"United States Secretary of State Rex Tillerson emphasized that the U.S. would further support Ukraine, and the U.S. sanctions against the Russian Federation will stay in force until the Minsk Agreements are fully implemented, the aggression is ceased, the Donbass and the Crimea are de-occupied," the press service reported.
According to the Voice of America's Myroslava Gongadze, Klimkin, while speaking with the reporters following the meeting with Tillerson, said: "I also want to point out that the message was voiced very clearly: there can be no formal, informal, imagined, mythological bargains; that is, the Ukraine issue will by no means be decided in the context of other issues. The issue of Ukraine is fundamentally important for the United States."
Read alsoKlimkin begins visit to Washington with laying flowers to Shevchenko monument"We also discussed the range of issues on how the United States can do more in terms of assisting Ukrainian reforms, and of course, we agreed on how we would further work on the key challenges facing us. I think that it was really a very good meeting and I am very grateful to the Secretary of State for this meeting," said the Ukrainian minister.
Read alsoKlimkin does not believe in Trump-Putin "grand bargain" as contrary to any logic of American interests