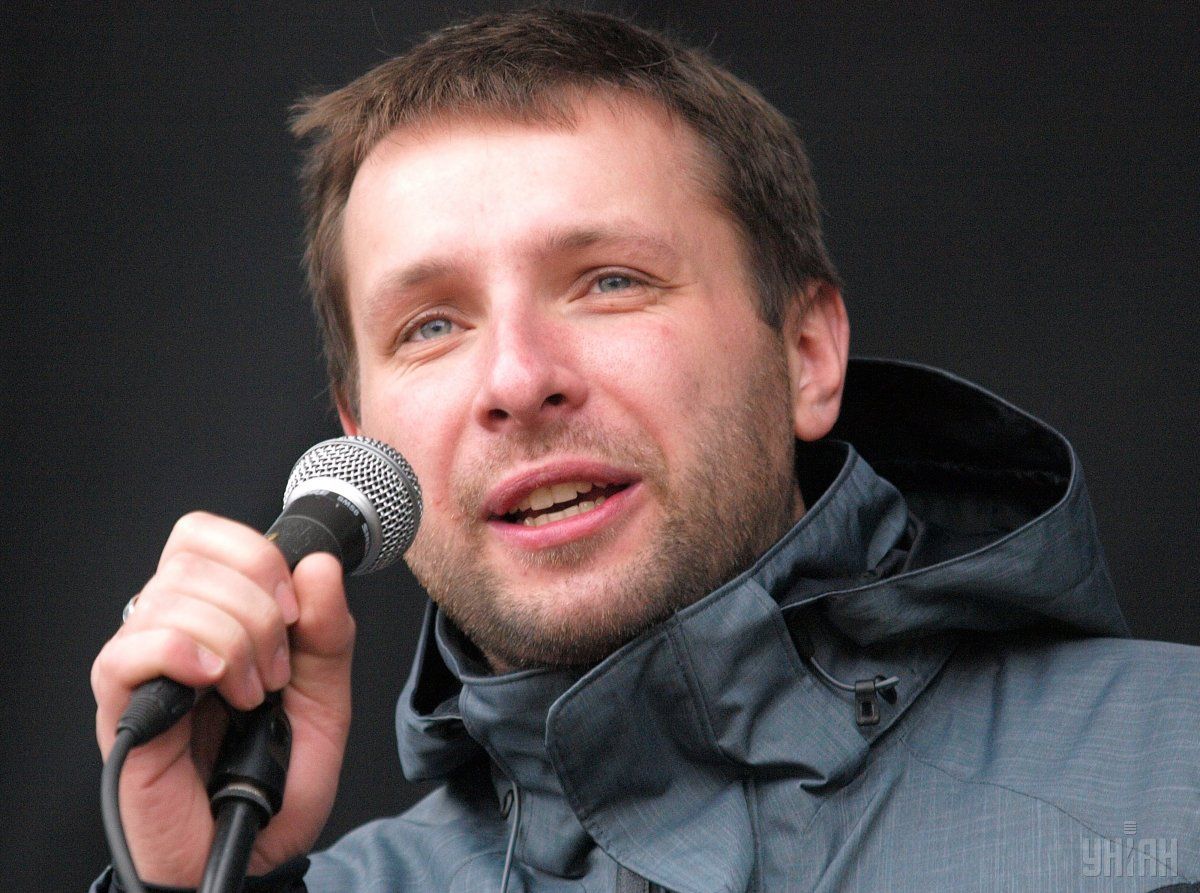 MP Parasiuk enjoys parliamentary immunity / Photo from UNIAN
"[Former Maidan activist, incumbent Verkhovna Rada member Volodymyr] Parasiuk was the leader of an attack on police. About 40-45 men attacked police officers," chief of a police unit which was on duty in Sloviansk, Colonel Yuriy Holuban said at a press conference on Tuesday, 112.ua reported.
"I decided not to use firearms as there was a Member of Parliament. After that they broke through the checkpoint [in Sloviansk], got into the cars and drove down the road. Five officers from my unit were injured. One officer was hit by Parasiuk's car, two more had their faces inured, and two suffered through a tear gas exposure," Holuban said.
Read alsoSeven police officers injured in brawl with supporters of trade blockade in Donbas (Photos)An investigation into the circumstances of the incident is under way.
Later, chief of the police in Donetsk region Viacheslav Abroskin said that his department had transferred materials about the brawl to the Prosecutor's Office in Donetsk region, which is to decide whether criminal proceedings should be brought on the fact of violating public order. Parasiuk though enjoys parliamentary immunity, and only the parliament is able to strip him of the immunity if prosecutors submit a respective motion.
Parasiuk's aide Iryna Holub posted footage from the site of the incident. She claims that the police were the first to attack the "unarmed" participants in the trade blockade.
In her words, Parasiuk's suffered from tear gas very much.
A column of vehicles was moving from Kharkiv to Bakhmut to support protesters against trade with occupied areas in Donbas after a roadblock near the Kryvy Torets railway station had been taken over by SBU and SWAT officers. Protesters near Kryvy Torets were detained, but later the police released them.
"Volodymyr Parasiuk came out of his car, introduced himself and asked to let the car drive farther. But in response, police officers racked the slide of their weapons and did not let his car move. Then they used tear gas, hit the cars with batons and threatened that they would use arms," she told strana.ua.
Eyewitnesses claim that Parasiuk and two other men were hospitalized because of a tear gas exposure.
Later, Parasiuk wrote on Facebook that fire had been opened on the activists.
"They have just now opened fire on us," he wrote late on Tuesday.
According to the footage he posted, these were warning shots into the air. Yet, police first denied they had used weapons.
Later the Ukrainian Interior Ministry's press service issued a statement confirming that warning shots were fired when police wanted to stop a convoy of cars, lb.ua informed.
"A column with citizens was stopped en route between Kostiantynivka and Kramatorsk [in Donbas] at about 22:00 local time. They had managed to break through Sloviansk's checkpoint and injured police officers. They did not respond to orders to stop. Therefore, a police officer fired several warning shots into the air to stop the cars and save policemen's life and health because the cars were moving at a high speed," the ministry's media liaison office said.
Viewer discretion advised
Among the detained was Parasiuk, who, according to earlier statements, had to be in a hospital.
As UNIAN reported earlier, the headquarters of the so-called "Blockade Against Trade with Occupiers" said on March 13 that SBU security service officers and members of the Ukrainian police's KORD special weapons and tactics force had taken the Kryvy Torets roadblock set up by blockade supporters in Donetsk region. From 43 to 46 activists were reported to be detained on charges of firearms possession but they were released later.