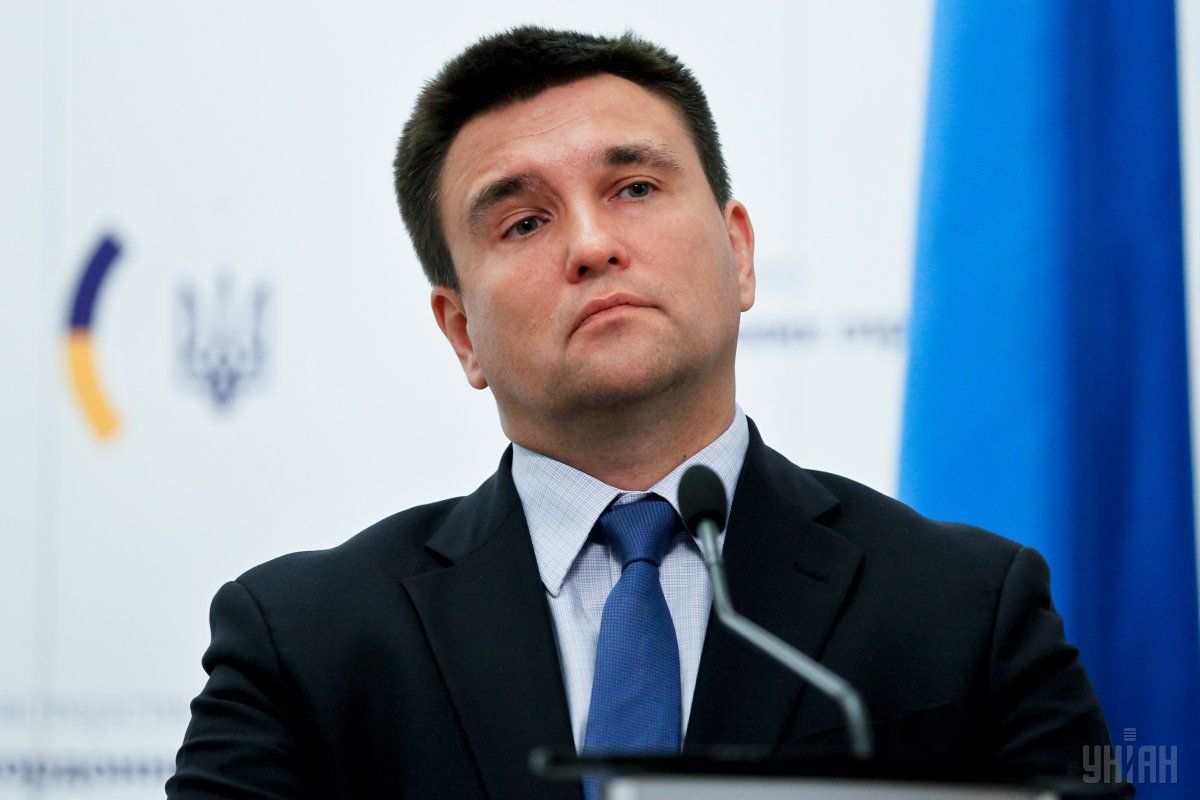 Photo from UNIAN
The postwar order that provided peace and stability across the continent appears to be breaking up, while "reversing the breakup of the Soviet Union and restoring the Russian empire have now become an obsession for the Kremlin," Klimkin wrote for The Guardian.
Ukrainian foreign minister highlights three things central to understanding what motivates Russia, and how Vladimir Putin's government works.
The first is Russkiy mir – "Russian world": a philosophy that harks back to the Soviet era. Central to it is the belief that Ukraine is part of a greater Russia. When in 2014 a popular revolution ousted Viktor Yanukovych, it was more than Russia could stomach. It subsequently illegally annexed Crimea and invaded Donbas in support of the so-called "People's Republics of Luhansk and Donetsk", which the Ukrainian government believes to be little more than a mixture of terrorist and criminal organizations. Besides, Russia greedily eyes other former states and satellites of the Soviet Union, and more broadly seeks to destabilize and divide the rest of Europe and the wider transatlantic alliance. It is instructive that the Kremlin is commissioning new statues of Stalin, one of the 20th century's worst mass murderers.
Read alsoTalks with Russia possible only from position of strength: Ukraine's Foreign MinisterSecond, hybrid warfare is a term that will be unfamiliar to most. It was developed and brought to new heights by the Kremlin, as military aggression against Ukraine was accompanied by carefully planned propaganda and the orchestration of sham elections to support the Russian version of reality. "Like old-style propaganda it uses pernicious lies to support the Kremlin's cause, but it is more sophisticated and insidious than the old Soviet propagandists could ever have dreamed of," Klimkin says.
This sort of warfare makes full use of modern technology, and is waged across the globe by the well-funded TV station Russia Today, or RT, with its benign call to "Question More".
"What they want questioned is the established order," the top Ukrainian diplomat writes, adding that "they do not carry a coherent Russian narrative – they simply seek to undermine that of the west."
Read alsoUkraine says Russia hasn't fulfilled single clause of Minsk accordsHybrid warfare goes further than TV and the internet. From the top of the Kremlin to thousands of "keyboard jockeys" in troll factories outside St Petersburg or Moscow, who drip their poison across social media, Russia lies on an industrial scale. It is a sophisticated strategy, sometimes combined with conventional aggression, sometimes not, but always serving Russian geopolitical interests.
"Third, Russia cannot be trusted," Klimkin says. "The Ukraine government is fundamentally different, but we understand the mindset of the Kremlin leadership: Russia, as any diplomat who has dealt with the Kremlin will tell you, respects only power and should only be negotiated with from a position of strength and international solidarity."
Stressing the fact that Russia exploits weakness, Klimkin points out that Moscow does this in bilateral negotiations just as it surely as it exploits the weakness of the UN Security Council, where it abuses its right of veto as one of five permanent members.
Pavlo Klimkin draws attention to the fact that "Russia also breaks its promises. Few in my country could have envisaged the consequences when in 1994 Ukraine gave up the world's third largest nuclear arsenal, under guarantees protecting its territorial integrity from the UK, U.S. and Russia."
Read alsoRFE/RL: Crimean Tatar leader likely to face trial soon on separatism chargeBy annexing Crimea and invading Donbas Russia "has spat on that historic document, the Budapest memorandum, which Ukraine signed up to in good faith to make the world a safer place. And 20 years on, Russia has not honored a single clause of the Minsk agreement that they signed in an effort to bring about a resolution to the war in Donbas, in which 10,000 of our people have been killed and 23,000 wounded."
Klimkin believes that today, Russia poses the greatest threat to the security and unity of Europe since 1945. "There can be no talk of lifting sanctions until Russia is brought to heel and persuaded to comply with international rules," he wrote. "And sanctions hurt Russia more than the Kremlin cares to admit. They are slowly reducing Russia's ability to destabilize Europe and the world."
Read alsoRussia deploys dozens of modern tanks close to Ukraine border – Reuters"The west must remain united in the face of the threat, and must not blink first," Klimkin concludes. "Remember what that great Briton, Winston Churchill, said about appeasers: they are the ones who feed crocodiles, hoping they will be eaten last."