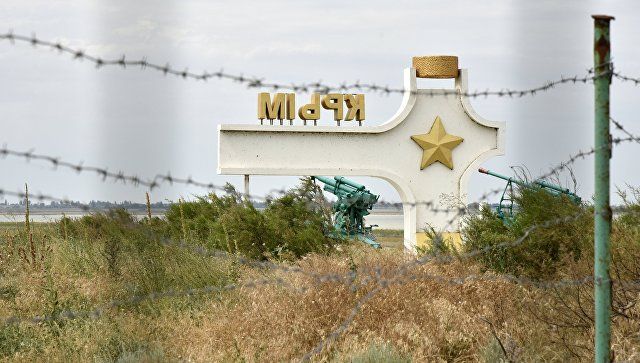 REUTERS
Everyone had different motives for treason, but the real reasons lay with human vice and weakness, the Ukrainian operatives say in a documentary on the activities of Russian special services in Crimea, first aired by TSN.ua.
"Forms and methods are basically the same, but anyway, any person is studied as they try to find an approach to them. You can call it mass recruitment when an idea was imposed on everyone that there is no such state as Ukraine, and they have a choice - either they side with the FSB [Federal Security Service of the Russian Federation], or they will 'fall overboard.' Those who had certain beliefs did not succumb to this; they fled and remained true to their oath. Those who had some mercantile interests fell for it," says an SBU operative.
The Crimean Tatars are the group most interesting to Russian special services. The FSB had started working with them long before the events of 2014, and some of Crimean Tatars they managed to recruit. The FSB never stopped their attempts after the annexation.
Read alsoPostgraduate student at Moscow State University Zakhar Sarapulov: "Hundreds of thousands of people at the rally dedicated to Crimea's accession had to see the Ukrainian flag"The film tells a story of a local Crimean Tatar businessman Shevket Velilyaev, one of those who spoke for Ukraine's integrity and eventually lost everything he had in Crimea, while his brother went further by volunteering for military service.
One day, Mr Velilyaev was detained at the administrative border with Crimea in a recruitment attempt. His passport and phone were taken and he was kept in custody for several hours, before two FSB operatives came. They showed three casefiles on his family: his brother, wife, and the eldest son.
FSB were interested in Shevket's ties with the Crimean Tatar leaders, any data on the blockade of Crimea and the location of the Aidar battalion units, where his brother was serving.
Read alsoTurkish MFA reiterates non-recognition of Crimea annexationThe Russians intimidated Shevket by telling him he could simply disappear in a neutral zone between mainland Ukraine and the occupied Crimea. They also threatened him, saying his son could not make it home one day and also disappear, like other Crimean Tatars.
The operatives even used an unknown substance during interrogation, injecting it into the man's back.
Read alsoRFE/RL: Crimean Tatar leader likely to face trial soon on separatism chargeAs a result, Shevket Veliliaev was forced to sign cooperation papers. The FSB officers tasked him with winning the confidence of Crimean Tatar leaders, only to physically destroy them later. He was also told to bring his brother to Crimea.
However, Velilyaev chose to immediately report to the Ukrainian special services on the recruitment attempt, and his whole family was taken out of the Crimea within a week.