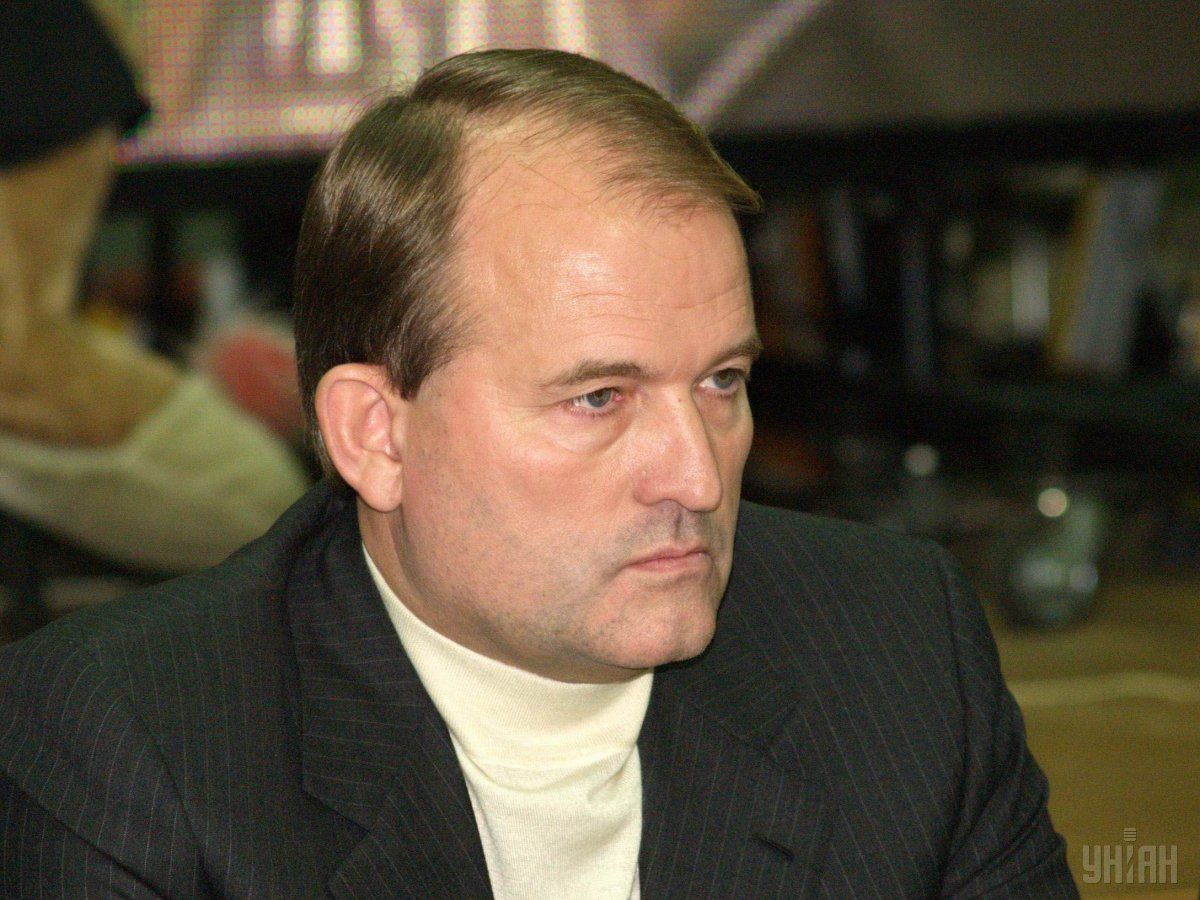 Photo from UNIAN
So why is Mr. Medvedchuk involved in negotiations over the future of separatist-held east Ukraine — on Kyiv's side?, the FT wrote in its article titled "Putin's friend emerges from shadows in Ukraine" published April 25.
Mr. Medvedchuk, 62, has long been one of Ukraine's most divisive and enigmatic political figures. Chief of staff to Ukrainian president Leonid Kuchma in the 2000s, Mr. Medvedchuk is close enough to Mr. Putin to raise deep animosity among many in Kyiv who suspect him of being Mr. Putin's agent.
Read alsoRussia funds and manages conflict in Ukraine, leaks show – Atlantic Council"If peace does break out, an important role may be played by Mr. Medvedchuk's offices in Kyiv — which, in a sign of the enmity that the politician has attracted inside his own country, has guards flanking the doors and metal shutters on the windows," FT reported.
In a 90-minute, rare interview, with the FT, Mr. Medvedchuk insists claims by critics that he is secretly representing Russian interests are "absurd."
"I can and do have relations with… Mr. Putin, because my relations, in my view, help the interests of Ukraine," he says, as an office TV plays a Russian state news channel. "I have never concealed such activities."
He has special permission, he adds, to fly directly between Kyiv and Moscow, although both countries have banned direct flights.
Read alsoPoroshenko on Donbas: Real war, not frozen conflictPublicly, Mr. Medvedchuk is the negotiator on the release of prisoners under the Minsk peace process for eastern Ukraine — whose latest pact was signed in February 2015 but which has yet to bring a lasting end to conflict.
Privately, people familiar with the situation say he is involved in constant backroom negotiations aimed at reconciling the two separatist-controlled regions of Donbas with the rest of Ukraine.
A lawyer in Soviet Ukraine, Mr. Medvedchuk became an MP after independence and got to know Mr. Putin through his parliamentary activities. As Mr. Kuchma's presidential chief of staff from 2002 to 2005, he also developed close relations with his opposite number in Mr. Putin's administration: Dmitry Medvedev, now Russia's prime minister.
Read alsoAkhmetov, Lyovochkin, Medvedchuk deciding fate of Opposition Bloc - journalistIs Mr. Medvedchuk a close Putin friend? "Better to ask the president," he quips. But friends confirm that Mr. Putin is godfather to Mr. Medvedchuk's youngest daughter, Daryna — and Mr. Medvedev's wife is godmother.
After Ukraine's 2005 pro-democracy "Orange" revolution, Mr. Medvedchuk left politics to focus on business. But in 2013 his Ukrainian Choice campaign group lobbied vociferously against Mr. Yanukovych signing a planned association agreement with the EU and pushed instead for closer economic ties to Russia.
Such activities helped put Mr. Medvedchuk on the first U.S. sanctions list of Russian and Ukrainian officials after Moscow annexed Crimea in 2014.
Read alsoSBU presents proof of Russia trying to destabilize Ukraine via agents of influenceMr. Medvedchuk concedes the Minsk deal hangs by a thread, blaming both Moscow and Kyiv for failing to meet obligations. A way out of the impasse, he suggests, could be for Ukraine's parliament to pass laws granting limited autonomy to separatist-held regions and hold elections there, conditional on Russia fulfilling its Minsk requirements.
Those include withdrawing Russian troops from Donbas — whose presence Mr. Medvedchuk insists is "debatable" — and restoring control of the border with Russia to Ukrainian forces.
Resolving the conflict might also be easier, he concedes, if talks expanded to include the big underlying disputes between Moscow and Kyiv – including the Kremlin's insistence that Ukraine must not join NATO.
Read alsoU.S. not to lift sanctions against Russia until Minsk accords implemented – Department of State"Ukraine doesn't need [NATO]," he declares. "In today's situation, this will lead to the break-up of Ukraine… Ukraine must act in the interests of its development, and [those] don't include joining NATO and the EU. No one wants us, in either one."
He insists Ukraine should be a "sovereign, independent" country, but its future lies in rebuilding ties with Russia.
"I'm convinced these will be friendly countries, wonderful neighbors. We were brotherly countries and will be in the future," he says.
Does he share Mr. Putin's view that Ukrainians and Russians are "one people"? He admits he has "discussed" this with the Russian president.
"I hold that we are two peoples," he says. "But friendly and brotherly peoples."