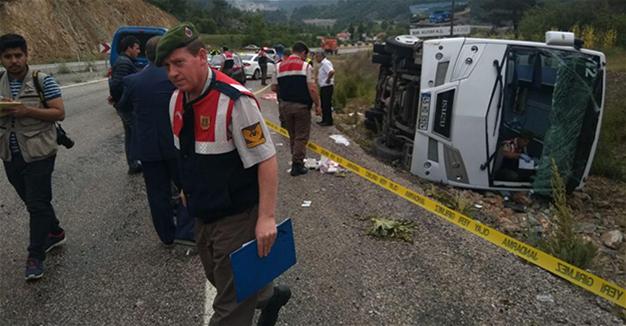 Photo from Hurriyet Daily News
The minibus driven by Tuncay Gungor overturned in the Yaylasogut region on the Mugla-Denizli motorway, according to Hurriyet.
A number of ambulances and rescue teams were immediately dispatched to the scene and the traffic was temporarily provided from the single lane.
A total of 16 Ukrainian tourists and one tour guide was injured in the accident, the agency reported.
The injured were taken to hospitals in the province and reported to be in a stable condition.
Meanwhile, the Mugla Governor's Office said in a statement that the tourist group was heading to Denizli from the Aegean resort of Bodrum and the cause of the accident was slippery road.
Read alsoCargo ship with 12 crew members, incl. 9 Ukrainians, sinks in Black Sea – Russian mediaIt said 10 of the wounded received outpatient care while Gungor, who was in a stable condition, stayed at the scene.
The wounded were identified as Ilhami Gecit, Lana Dubauyk, Alla Tarasiu, Volodymyr Trasuk, Anna Osypenko, Vita Parfenovych, Halina Frolova, Alisa Isimsiz, Ievgeniia Lapchuk, Fred Sdorilovys, Andrii Prodtsenko, Olegsdr Shevchenko, Alfied Stanilosvsky, Petro Patychuk, Svitlana Patychuk, Mykhalo Patychuk and Katia Karpenko.
The accident comes days after a deadly crash in the Mediterranean resort of Marmaris claimed 24 lives.
A minibus carrying passengers from the Aegean province of Izmir to Marmaris for a one-day Mother's Day event veered off a cliff on May 13, killing 24 people and wounding another 11.