Chernovetskyi: neighbours hate me and my cat Yasha
During the excursion...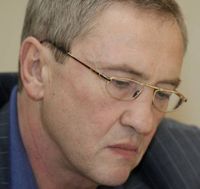 Kyiv Mayor Leonid Chernovetskyi gave a brief news conference in his house situated in Koncha –Zaspa and showed it to mass media representatives.
According to an UNIAN correspondent, in the yard of the house the journalists saw the car of "emergency" "Borys" – doctors of this service stay by the Mayor`s bedside during this disease (as it is known, the Mayor has a pneumonia – UNIAN).
The Mayor brought his grandchildren to the meeting with journalists but some time later children left the hall. The Mayor answered to three questions and after that proposed to journalists to see some rooms of his house and also invited to have some tea with honey and pies.
During the excursion in the house the Mayor  showed where and how he works in the house on problems of the city. He showed his bedroom, where there are icon of Jesus Christ and Bible at the cupboard near the bed.
For the question who are his neighbours the Mayor said that it is not interesting for him and he does not know this.
" I have 450 square metres", said Kyiv Mayor about his lot. "I live as many of Kyiv citizens. I do not know neighbours, they avoid meeting me, they hate me and my cat Yasha", he said.
The Mayor could not show cat Yasha to journalists, having explained that it is spring now and the cat "go for a walk".
The Mayor promised that he will give the broadened news conference soon, where he will answer t all questions, which are interested for journalists.
If you see a spelling error on our site, select it and press Ctrl+Enter