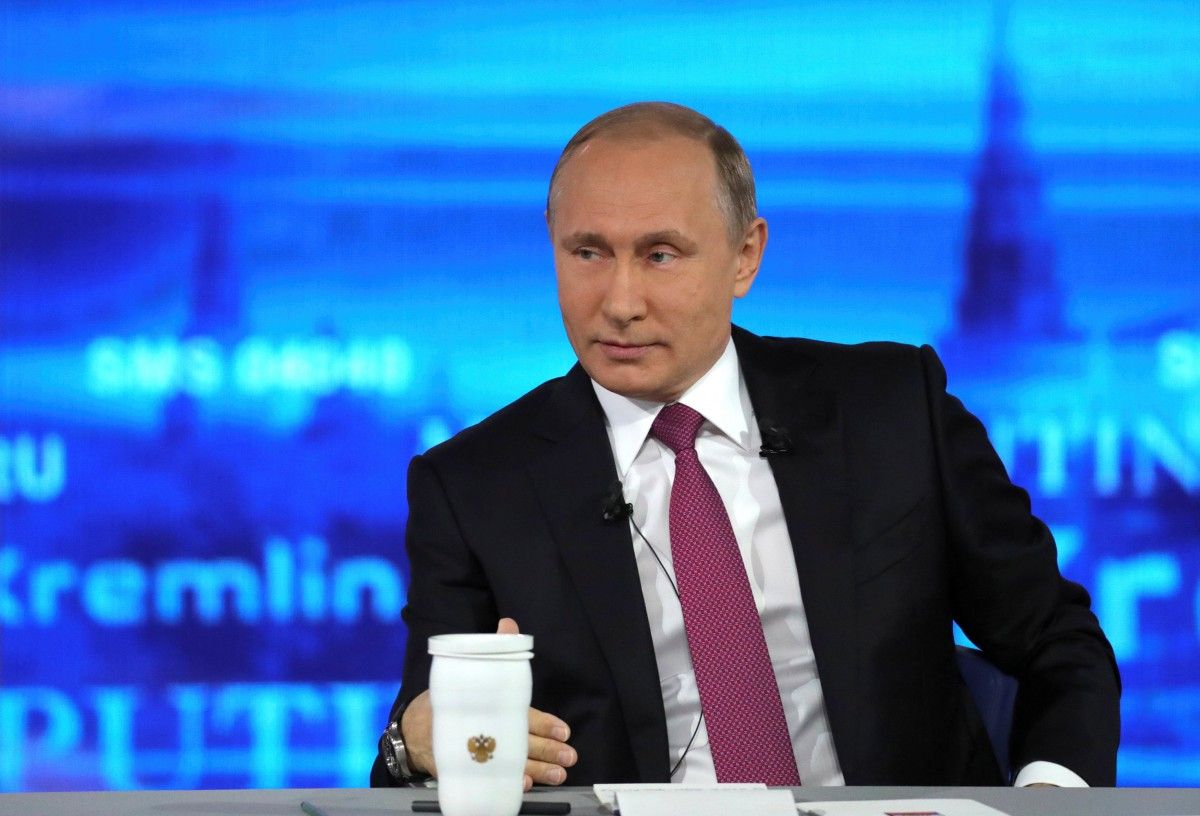 REUTERS
"No, I did not see his remarks on this account. However, I was told about them yesterday, I will not hide this fact. Indeed, Mr Poroshenko thought it fit to read this excerpt from Lermontov's poem, 'Forever you, the unwashed Russia! The land of slaves the land of lords, and you, the blue-uniformed ushers, and people who worship them as gods.' First, this tells us that he is familiar with the Russian classical literature, and takes an interest in it. I commend him for that," Putin said during a Q&A session on Thursday, June 15.
"However, this is not the end of this poem. There is the second part, which runs as follows: 'I hope, from your tyrannic hounds to save me with Caucasian wall, from their eye that sees through ground, from their ears that hear all,'" he added.
Read alsoPutin claims Russia tries not to meddle in Ukraine's internal affairsPutin suggests Mikhail Lermontov was a forward-looking man, and he wanted the political situation in Russia to improve. He was smothered by the atmosphere that prevailed in Russia at that time. And he talked about it openly.
"First, if it was Mikhail Lermontov who wrote this poem, he wrote it approximately in 1841–1842, if memory serves, when he was headed for the Caucasus to join the active army. He was an officer and defended the interests of his homeland. He was a brave officer. Further, at that point, the regions that are considered Ukraine today were Russia's regions, and if the President of today's Ukraine quotes Lermontov as saying that he is leaving for some other place, Lermontov referred to entire Russia, including the areas that today are known as Ukraine. So, there is nothing special to brag about here," Putin said.
"Also, Lermontov was going to the Caucasus, which was part of the Russian Empire at that time. He moved from one part of the empire, St Petersburg, his native land, to another part of the Russian Empire. He was not going anywhere outside of Russia as a matter of fact. Perhaps, Mr Poroshenko is thus sending us a message that he is not going anywhere, either. However, he does it so finely, looking over his shoulder at the jingoists and the real nationalists, numbskulls running around waving swastikas. However, he is telling us: Guys, I have my interests in Russia, and I am really not going anywhere. This may be the case as well. Of course, this is nothing but conjecture. In fact, most likely, Mr Poroshenko wanted to show his voters that he is delivering on his promise by making a civilizational choice, as the Ukrainian leadership puts it, by leading the country towards Europe," Putin added.
"By the way, remember the line, 'the blue-uniformed ushers, and people who worship them as gods?' The place he [Poroshenko] is taking Ukraine to has more blue uniforms than our country. So, he should stay alert to keep out of harm's way and look around carefully. To be sure, we have nothing against these guys. I want to say: we have nothing against you, live in peace and harmony, and good luck to you, especially with new recruits," he said.
Read alsoRussia threatens to retaliate if Ukraine introduces visas for RussiansAs was reported, President Poroshenko on June 10 recited part of Lermontov's "Forever you, the unwashed Russia!" during an official event on the launch of European Union visa-free travel for Ukrainians as of June 11, saying: "We, Ukrainian people and the whole Ukraine, are entering a new historic era. And this event symbolizes the final break of our state with the Russian Empire and the break of the Ukrainian democratic world with the Russian authoritarian world."