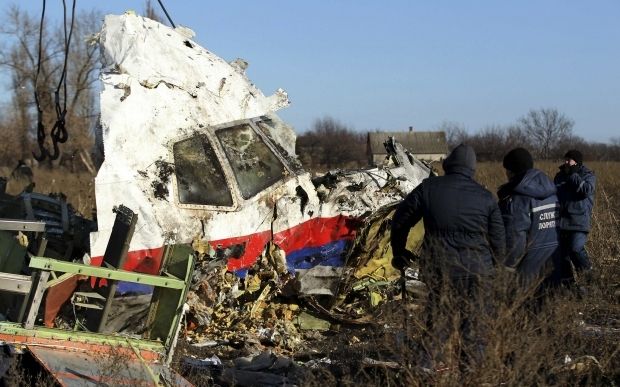 REUTERS
"Just a few minutes ago, entitled to do so by the President of Ukraine, I've signed the Agreement between Ukraine and the Kingdom of the Netherlands, which will ensure the investigation and punishment of terrorists involved in the downing of the passenger Boeing plane flight MH17," Petrenko wrote on Facebook.
Read alsoFSB isolates one of key witnesses in MH17 case – OSINT groupThe Minister noted that, in accordance with the agreement, the prosecution of perpetrators will be carried out within the national judicial system of the Netherlands. In his opinion, such a step will allow to concentrate investigative actions within the judiciary framework of a single state.
"This is not a crime against Australians, Dutch or people from other countries. It is a crime against humanity. And we must do everything possible to make sure those involved in the death of almost 300 people do not escape responsibility," he added.
Read alsoUkraine's Ambassador to the Netherlands: "Russia is obliged to provide legal assistance [to the Netherlands] in criminal matters""I call upon representatives of all states to provide necessary support and assistance in the investigation and prosecution of the perpetrators, as stipulated by a UNSC resolution," Petrenko said.
UNIAN memo. Malaysia Airlines' MH17 Boeing 777 heading from Amsterdam for Kuala Lumpur was shot down on July 17, 2014, over militant-occupied territory in Donetsk region. All 298 people on board who were citizens of 10 countries were killed in the crash. The majority of the victims, 196, were citizens of the Netherlands. Read also FSB isolates one of key witnesses in MH17 case – OSINT group The Dutch Safety Board October 13, 2015, issued a report on the causes of the accident. It was revealed that the plane had been shot down by a Buk anti-aircraft missile system. The Joint Investigation Team (JIT) in its report published on September 28, 2016, confirmed that the plane had been downed by a Russian-made Buk brought to Ukraine from Russia. The missile launch site was located in militant-controlled Pervomaisk. Nearly 100 people are among the suspects in the case. Russia said the report could not be perceived as the "ultimate truth," calling the JIT conclusions "preliminary." Bellingcat's team of investigative journalists published a report on June 5 with proof that the Buk originated from Russia.