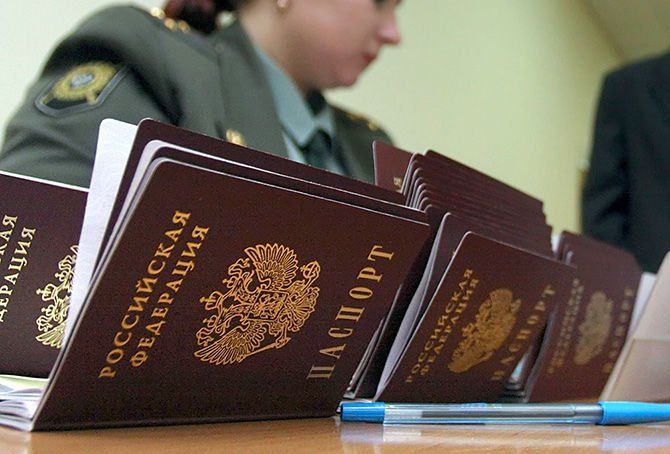 YConsult.ru
There are also discussions about the procedure for taking the solemn pledge of allegiance: whether it should it be taken before or after the passport of a Russian citizen is issued to the applicant, or the ID will be handed over during the oath ceremony, Kommersant reports.
According to the publication, the bill will be submitted to the committee meeting on July 11, but it can be still adjusted. In particular, this involves the issue on when a new Russian citizen will receive a passport: before or after taking the oath or even while making an oath.
Read alsoUkrainian MP who offered leasing Crimea to Russia stripped of citizenshipIn addition, according to Pavel Krasheninnikov (United Russia Party), representatives of the migration and legal departments of the Russian Interior Ministry were invited to attend the July 11 Committee meeting. They will be talking about the situation with Ukrainian citizens who wish to obtain Russian citizenship, while not being able to get certificates on withdrawal from their Ukrainian citizenship. "There are countries where it's difficult to get such a certificate but Ukraine has simply stopped issuing them," Krasheninnikov claimed, adding that the bill will establish the procedure of "public renunciation of Ukrainian citizenship for such citizens."
The decision to supplement the bill with the norm on public renunciation of previous citizenship was made in the State Duma a few days ago. Kommersant's source in the lower house of parliament noted that "the situation related to the Ukraine certificates had been discussed in various circles in recent weeks, including in the government and Interior Ministry." It was initially assumed that the necessary changes could be made to the regulations of the Ministry of Internal Affairs, while law enforcement officials insisted on amending the law.
The proposal "to exclude the submitting of certificate of withdrawal from citizenship" if an applicant is unable to get it was voiced by the odious leader of the Liberal Democratic Party of Russia, Vladimir Zhirinovsky, at his meeting with Russian President Vladimir Putin.
Read alsoWhy Russia is changing ethnic composition of CrimeaAs reported by the media, 1,280 people have disowned Ukrainian citizenship since the beginning of 2017, while 21 people have obtained citizenship of Ukraine within the same period, the Ukrainian Foreign Ministry said in response to journalists' request.