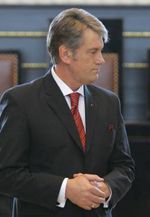 President of Ukraine Victor Yushchenko is sure that Ukraine will not allow either external or internal default.
The head of the Ukrainian state said this, delivering a speech in Prague before the participants of European Bank and Financial Forum, representatives of business and financial circles of Czech Republic.
The President underlined that Ukraine has a small amount of obligations, which Ukraine is able to pay out even owing to the internal reserve.
V. Yushchenko believes that one of the factors of the financial crisis in Ukraine was that our state could not provide the dialogue with the International Monetary Fund and the government started fulfilling the obligations owing to personal resources.
At the same time he is sure that Ukraine will receive the loan of the IMF.