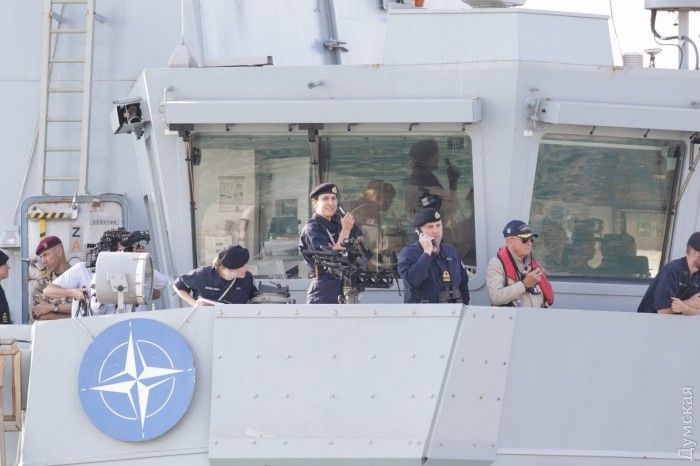 The visit will last until July 27 / Photo from Dumskaya
The U.K. Royal Navy's HMS Duncan and Turkey's frigate Yildirim arrived at the Black Sea port on Monday for a three-day stay, NATO representation to Ukraine announced on Facebook, Newsweek reported.
The vessels are in Ukrainian waters following a U.S.-led drill, called Sea Breeze, in which Ukraine took part. Their purpose this week, however, is more symbolic. The NATO liaison officer in Ukraine, Alexander Vinnikov, has officially gone aboard the visiting vessels, which will be open to Ukrainians who want to get better acquainted with the navies of Kiev's western partners.
Russia has repeatedly objected to nonregional forces entering the Black Sea, taking particular issue with U.S. Navy vessels.
Tensions between Russia and Ukraine are high, as violence between government loyalists and Russian-backed separatist troops in eastern Ukraine flares up every year around August.
Ukraine's president, Petro Poroshenko, warned on Sunday during a call with the leaders of Russia, Germany and France that Ukraine was entering the "bloodiest" outburst of 2017. Nine Ukrainian soldiers had died in the previous 72 hours.
Read alsoVolker: Hot war not frozen conflict in Donbas (Video)The new U.S. envoy to the Ukraine ceasefire talks, Kurt Volker, said on Monday that he was "astonished" by the frail state of the ceasefire in eastern Ukraine and said the conflict resembled a "hot war."
Ukraine, once a famously neutral state, has veered toward NATO membership since its relationship with neighboring Russia collapsed after a series of land grabs by pro-Russian forces in 2014. A poll last month found that nearly 56 percent of Ukrainians supported joining the alliance.