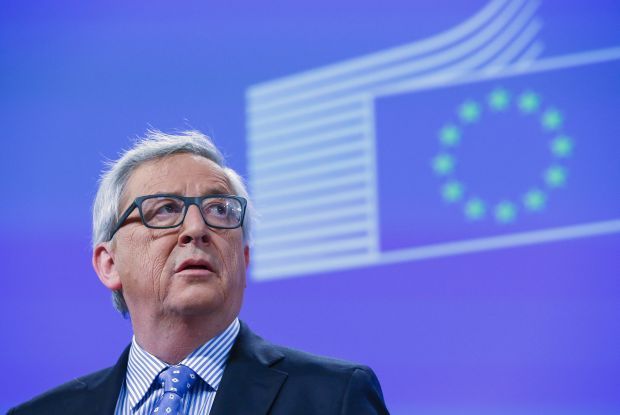 REUTERS
Last week, European Commission President Jean-Claude Juncker warned the bloc could retaliate against the U.S. over the sanctions bill if its concerns about the legislation weren't addressed, according to WSJ.
The bill would let Mr. Trump penalize European companies working on the development, maintenance, modernization or repair of energy export pipelines. European officials say that poses a threat to a range of regional energy projects.
Read alsoTrump signs Russia sanctions billIn a news release on Wednesday, the European Commission said Mr. Juncker had signaled in a radio interview to be broadcast later that "he was broadly satisfied that the adopted U.S. sanctions against Russia were watered down at the EU's bidding from the U.S.'s previous plans."
"At the G-7 summit in Taormina, Italy and at the G-20 summit in Hamburg, I said that should the Americans approve new sanctions, we would be ready to "respond adequately" within a matter of days. That resulted in a large volume of the intended sanctions against Russia being reversed," Mr. Juncker said in the radio interview with German public broadcaster NDR, the commission statement said. "And it also led to the American Congress to declare that these sanctions should only have taken place in agreement with U.S. allies."
Read alsoDonald Trump concerned Russia sanctions law may hinder peace efforts in DonbasStill, Mr. Juncker warned that if the legislation is implemented in a way that undercuts European interests, "the EU would be ready to react adequately within a matter of days."
Among the changes made to the legislation to assuage European concerns as it passed through Congress were a higher threshold of Russian involvement in projects that could lead to European companies being sanctioned. It was also changed to apply only to new investments in projects, not to existing ones.
The bill also said the president in making decisions on sanctions should "continue to uphold and seek unity with European and other key partners."
Read alsoReuters: Juncker says EU could act rapidly to new U.S. sanctions on RussiaThe EU nations hadn't said how they would retaliate if changes weren't made to the legislation but officials said the bloc could have lodged a case at the World Trade Organization and applied EU legislation designed to stop European companies complying with U.S. sanctions laws.
However, legal experts have warned that the EU's options to respond to U.S. extraterritorial sanctions -- U.S. legislation that would penalize non-U.S. companies operating overseas -- are limited.