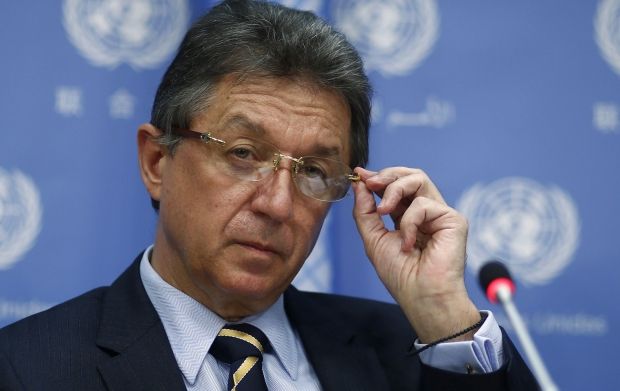 REUTERS
Lawyer Vitaliy Meshechek filed a motion at a recent hearing on former Ukrainian President Viktor Yanukovych's treason case for additional time to study the materials of the case.
The hearing took place in Kyiv's Obolonskiy district court on Thursday, August 3.
In turn, the prosecutors filed a motion to change the order of examining evidence in order to begin with the hearing of former Permanent Representative of Ukraine to the United Nations Yuriy Sergeyev (2007-2015), who now resides in the United States. According to the prosecution, Sergeyev will visit Ukraine in August. The prosecutors asked to call Sergeyev in court on August 15.Prosecutors opposed this, saying that he had already had time to examine the documents. Presiding judge Vladyslav Deviatko noted that one month was enough for that since the materials in the lawyer's unread volumes were duplicated.
The court has agreed to schedule the meeting at 14:00 on August 15 for Sergeyev's interrogation, as well as gave the lawyer a week to study the case.
Read alsoKyiv court returns Yanukovych's Mezhyhirya mansion to state – chief prosecutor The next court hearing is scheduled for August 10. The court will begin at 10:00 Kyiv time to examine written evidence of the case. The August 3 meeting was over.
As UNIAN reported earlier, the judicial panel of Kyiv's Obolonskiy district court on June 29 granted the prosecution's request for special judicial proceedings in the case of ex-President Yanukovych, who fled Ukraine to Russia after the Revolution of Dignity in February 2014.
UNIAN memo. Yanukovych is charged with treason, complicity with the Russian authorities, deliberate actions committed to redraw the borders of the territory and the state border of Ukraine in violation of the Ukrainian Constitution. He is also accused of waging an aggressive war. These are the crimes stipulated in Part 1 of Article 111, Part 5 of Article 27, Part 3 of Article 110, and Part 2 of Article 437 of the Criminal Code of Ukraine.