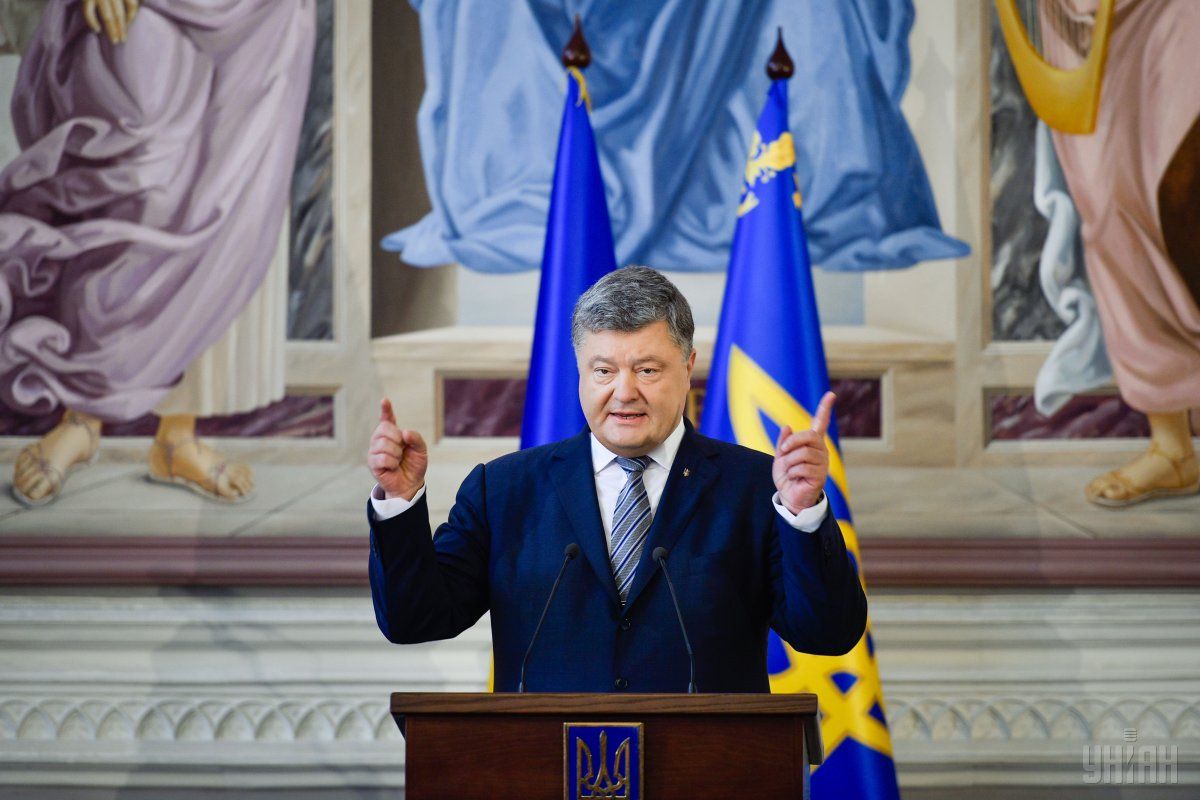 Photo from UNIAN
The current president's main message this autumn, set to become the unspoken start of the election campaign, will be the announcement of the course for joining the EU, Ukrainska Pravda wrote.
According to Poroshenko's plan, it will be possible to apply for the EU accession before the end of his second cadence.
Now, according to the UP, Poroshenko agreed to a strategy developed by his long-term political technologist and MP from the BPP faction, Ihor Gryniv. A lot of people are involved in the "re-election" project: from the leadership of the presidential staff and media heavyweights to the leaders of the BPP.
The sources say the Hryniv's plan lays down several interesting points.
First, Poroshenko is offered to partially delegate presidential powers to parliament. However, it's not about any serious restrictions to the president's capabilities. Among powers to be delegated is the function of appointing chairmen of regional administrations. At the same time, the president will retain influence over the Ministry of Foreign Affairs and the government's security bloc.
Read alsoPoroshenko signs controversial law on Constitutional CourtThe Verkhovna Rada, according to Hryniv's idea, should consist of two chambers: the upper house with 150 deputues elected by majority of votes in constituencies and the lower house with 300 MPs elected via party lists.
The president gave a preliminary approval for the plan of his long-time technologist, but it is not yet final. Poroshenko's team is convinced that the president will make changes to this strategy more than once before 2019.
"Petro is not the man who gives up on power, he works according to the business principle: buy everything, don't give anything away, so everything can still be adjusted," said one of the political technologists who has been working with Poroshenko for a long time.
"If Petro loses, it's clear that they will try to catch up with us, but if he wins, you'll see a completely different Poroshenko, he will not be bound by any ratings and he will start a very active work. He is also ambitious, wants to go down in history - and that will be his time," one of the sources from Poroshenko's closest entourage said.
Read alsoAlmost every second Ukrainian supports idea of snap parliament election – pollAs UNIAN reported earlier, according to a poll conducted by Rating sociological group in June, if Petro Poroshenko and Yulia Tymoshenko come out to the second round of the presidential elections, the leader of Batkivshchyna party will win, since she is now supported by 32% of voters while Poroshenko sees support of 24% of Ukrainians.