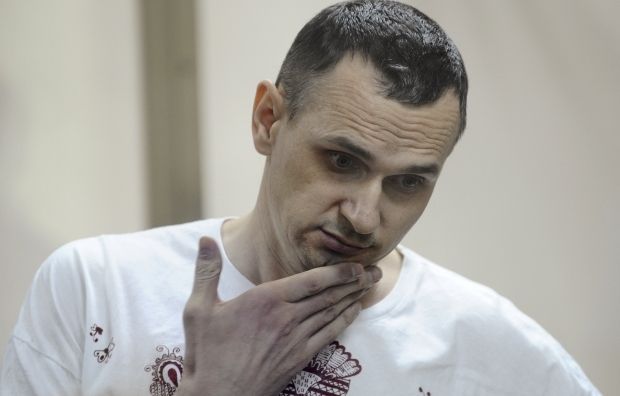 REUTERS
The video was 3 years ago Ukrainian filmmaker Oleg Sentsov was sentenced to 20 years in Russian prison.#freesentsovpic.twitter.com/wnJr6X2mRH
— Pussy Riot (@pussyrrriot) August 25, 2017" target="_blank">posted on the official Pussy Riot account on Twitter. In the video, girls sporting balaclavas called for Oleh Sentsov's release.
August 25 two years ago, the verdict was handed down against the Ukrainian political prisoner, film director Oleh Sentsov and a Ukrainian activist Oleksandr Kolchenko. Rallies demanding their release were held across Ukraine, in particular, in Kyiv and Odesa.
Earlier, on August 6, 2017, Pussy Riot band members Maria Alekhina and Olga Borisova flew a banner which said "Free Sentsov" over the bridge in Russian Yakutsk, the city where Oleh Sentsov is serving his sentence. Both women were detained by local police for holding an uncoordinated rally.
Oleg Sentsov together with Alexander Kolchenko were detained by Russian security forces in Crimea in May 2014 on suspicion of organizing terrorist attacks across the peninsula. In August 2015, the North Caucasian District Military Court in Rostov-on-Don sentenced Oleh Sentsov to 20 years in a high security colony. Kolchenko was sentenced to 10 years in prison. Both men have not plead guilty.
In the same case, Aleksey Chirnyi and Hennady Afanasyev were also convicted. The latter in June 2016 was exchanged for two servicemen of the Russian Armed Forces detained in eastern Ukraine's zone of the Anti-Terrorist Operation. Moscow claimed their troops had been dismissed from army ranks prior to their capture.
Memorial Human Rights Center put Sentsov and Kolchenko on the list of political prisoners. According to the human rights initiative #LetMyPeopleGo, as of today, Russia has already put behind bars on political grounds 45 Ukrainians, including in the territory of the occupied Crimea, calling them "Kremlin's prisoners."