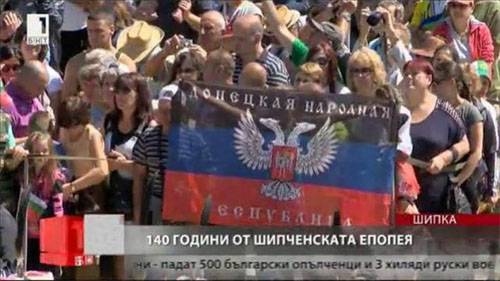 topwar.ru
The incident occurred during the celebrations of the 140th anniversary of the Battle of Shipka Pass, Ukraine's Embassy in Bulgaria said on its website on August 28.
"I am deeply concerned and outraged by the flag of the "DPR" terrorist and criminal organization on Shipka. I regard this, among other things, as an insult to the memory of Ukrainian soldiers and real rebels who brought freedom onto the Bulgarian land," the ambassador said.
"I insist the Bulgarian authorities should investigate that dirty provocation," the diplomat stressed.
Read alsoMinsk process can't end Donbas war, format should be expanded – KravchukBulgarian Minister of Foreign Affairs Ekaterina Zakharieva in turn commented on the incident on a local TV channel.
"In fact, this is an unpleasant story. We are a free state, everyone has the right to opinion, but this republic, as written on that flag, has not been recognized by anyone," the Bulgarian government's website quoted the minister as saying in the transcript of the comment.
She stressed the situation was especially unpleasant as the flag had appeared amid the events dedicated to the battle for freedom and democracy, and in the near future, the "DPR" will remain a symbol of how the laws are violated, threatening stability and peace in Europe.
Yet, Zakharieva said she does not consider the incident with the flag to be a scandal.
"The situation is unpleasant, but it would have translated into a scandal if there had been a state agency or its employee who did that. But this is a story about citizens who have the right to their opinion," she added.