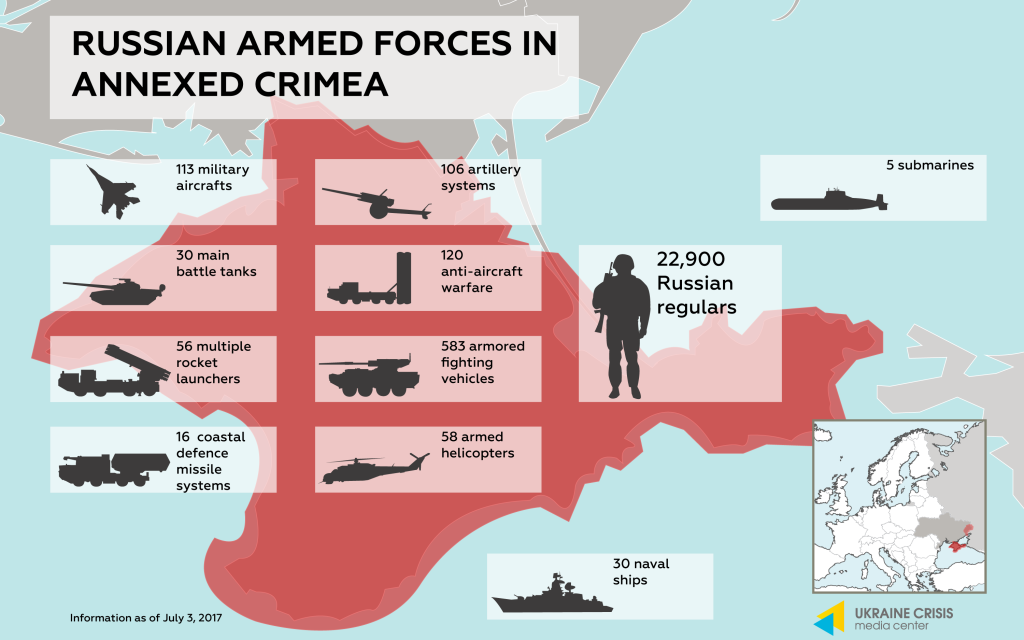 Photo from the Ukraine Crisis Media Center
"Having occupied Crimea, Russia has stuffed it with so many weapons that not every European country has," she wrote on Facebook.
"King Midas in Greek mythology turned everything he touched into gold, but all the territories Russia touches are turned into large concentration camps, where the greatest value is Russian weapons held by powerless and miserable people," Klympush-Tsintsadze said.
According to her, "in many parts of the world, Moscow has created zones of danger and fear, through which it destabilizes different regions of the globe."
"Is it really so strong? No. Like the entire modern Russia, its army is also a Soviet legacy from the past. The strength of Russia is in its arrogance and the lack of decisiveness of the free world. It is strong until it faces resistance. Even the weakest can defeat a bully when he or she starts defending their dignity and rights. And we are not the weakest ones," she said.
Read alsoSome 60,000 Russian troops deployed in Crimea today – expertsKlympush-Tsintsadze also shared infographics featuring the number of Russian troops in Crimea, as well as the number of occupation troops in eastern Ukraine. There were 22,900 Russian servicemen, 30 warships, 5 submarines, 106 artillery systems, 120 anti-aircraft weapons, 583 armored combat vehicles, 58 combat helicopters, 113 combat aircraft, 30 tanks, 56 multiple rocket launcher systems, and 16 coastal defense missile systems deployed in the occupied peninsula as of July 3.
Speaking about the deployment of the occupation forces in Donbas, she pointed to the "the scale of Russia's hypocrisy when it denies its presence in the east of Ukraine." "Killing Ukrainians for the fourth consecutive year, Moscow has been sending own citizens to death," the minister said. "That's not news – its leaders have never appreciated someone's life, treating people as things that need to have an inventory number and blindly execute insane orders. Russians who are killed in this war are buried in unmarked graves so that even the dead could not remind them of the Kremlin's crimes," Klympush-Tsintsadze said.
In her opinion, Russia will anyway be held liable for its actions.
There is information about the deployment of 36,300 Russian-hired mercenaries and 2,900 regular Russian troops in the east of Ukraine as of July, she said.
Photo from the Ukraine Crisis Media Center