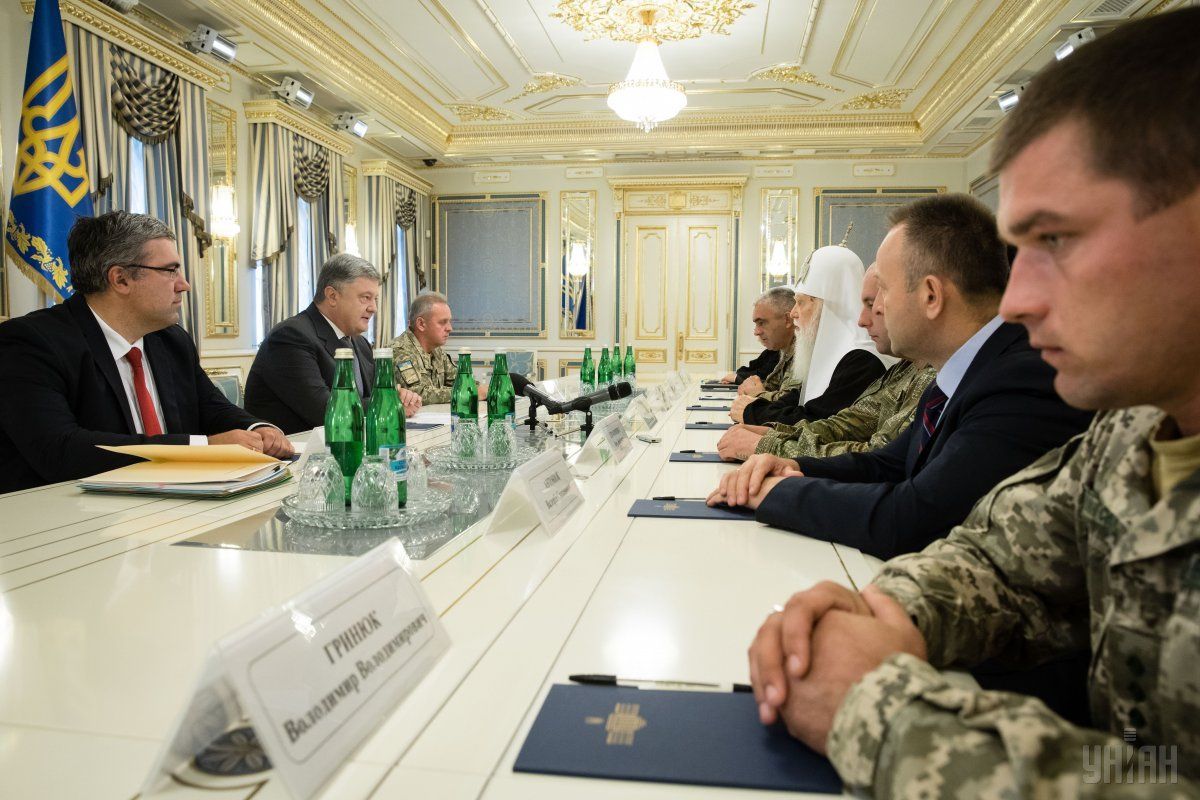 Photo from UNIAN
During a Saturday meeting with the priests and Heroes of Ukraine, Poroshenko called unacceptable the earlier raid on the Cathedral of Volodymyr and Olha, the main Cathedral of the Ukrainian Orthodox Church under the Kyiv Patriarchate in Simferopol on Thursday morning.
"We must protect our state, our citizens, and our faith, as well as, by the way, to defend the Ukrainian church, which was recently attacked in the occupied Crimea. We are not going to put up with this and neither are we going to accept it. And we demand that such acts against the Ukrainian church cease," Poroshenko said.
As earlier reported by the Kharkiv Human Rights Protection Group, bailiffs forced their way onto the territory of the Cathedral on August 31, damaging property on the ground floor, and the doors to the altar on the first floor. They removed a cross, church chalices, rare icons and some items of porcelain and crystal that had been given to the Church, as well as rugs.  No inventory was made of the items and Archbishop Klyment was not given any document to sign. 
Read alsoActivist of Ukrainian Cultural Center in occupied Crimea flees to mainland Ukraine following threatsThe Archbishop and members of the congregation were prevented from entering.  Archbishop Klyment explains that when he tried to enter the Cathedral, the men seized his arm, twisting it so badly that an ambulance needed to be called. 
The battle to seize control of the Cathedral of Volodymyr and Olha began soon after Russia's invasion and annexation of Crimea.  Klyment has since said that he was initially offered 200,000 to give the Cathedral up. 
Read alsoRussia criminalizes more religious worship in occupied Crimea - human rights activistsThe Kyiv Patriarchate issued a statement calling the action of the Russian enforcement bodies "lawlessness, violation of the right to freedom of conscience, guaranteed by international agreements binding also on Russia. It considers these actions to be a continuation of the occupation regime's pressure on the Ukrainian religious and ethnic minority in Crimea, intimidation and an attempt to totally destroy the Kyiv Patriarchate on the peninsula. We believe that it is also revenge from the Russian security service for the position taken by Archbishop Klyment and for his statements in defense of political prisoners of the Kremlin's regime, including Crimean Tatar and Ukrainian activists."